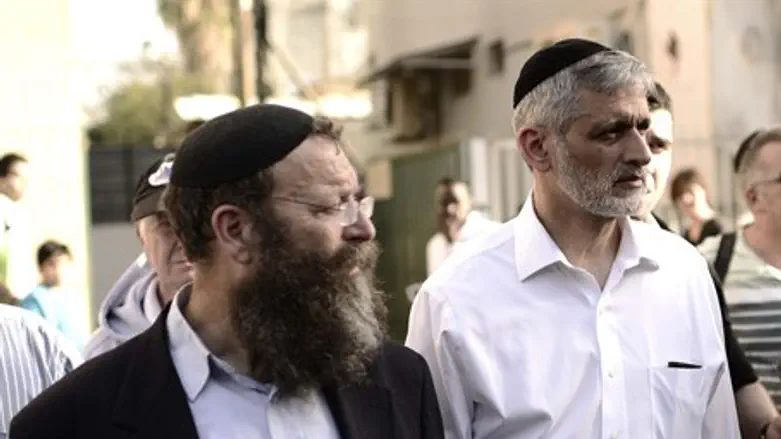 Baruch Marzel, Eli Yishai
Tomer Neuberg/Flash 90
The joint list of Eli Yishai's Yachad - Ha'am Itanu together with Otzma Yehudit was a mere 11,000 or so votes short of making it into the Knesset according to the near final tally.
A full 130,000 votes were needed to pass the 3.25% threshold percentage raised by the outgoing Knesset; previously the threshold percentage was 2% of the voting populace.
Likud, Yesh Atid and Jewish Home made raising the threshold a priority when they formed a coalition government in March 2013, at the time agreeing to raise the threshold to 4%.
According to updated statistics after over 99% of the ballots were counted, Yachad received 118,368 votes, making up 2.98% of the valid votes that were cast, but 11,632 votes short of making it past the 3.25% threshold.
The results are a disappointment for the party, after predictions earlier in the counting around midnight on Tuesday night that anticipated the list would pass the barrier and make it in with four seats. After the two parties formed a joint list, practically all polls showed them getting in with four or five mandates.
Otzma Yehudit, which is led by former MK Dr. Michael Ben-Ari and was represented by candidate Baruch Marzel at number four on the joint list with Yachad, similarly fell just short of the Knesset in the last elections when it ran under the name Otzma Leyisrael.
In those elections, in 2013, it received 66,775 votes, 8,225 short of the 2% threshold.
Marzel took to Facebook late Tuesday night to address his supporters as the counting of polls was under way and initial results indicated the list had possibly fallen short.
"We will continue will full force!" pledged Marzel. "If we make it in or not, the Knesset is only a means and not a goal! Our goal is the land of Israel and we will continue to defend it in any situation, from within (the Knesset) or without!"
Otzma Yehudit's platform builds on the ideology of former MK Rabbi Meir Kahane, who called to transfer hostile Arab residents out of Israel and annex all of Judea, Samaria and Gaza. He was assassinated by an Arab terrorist while speaking in New York in 1990.
Yachad faced numerous challenges in the elections, given Yishai's tensions with Shas of which he was chairperson before being replaced by Aryeh Deri, who had taken a long leave from politics after being jailed for corruption in 1999.
Several Shas activists were arrested on Tuesday for stealing Yachad voting slips to block votes, and Yachad likewise charged that Shas activists physically forced inspectors from the party out of voting stations.
Likewise, the party accused Shas of setting up a fictitious party list with letters similar to those representing Yachad, so as to confuse voters and steal votes. In the end, the anonymous party with similar letters only ended up with 893 votes.