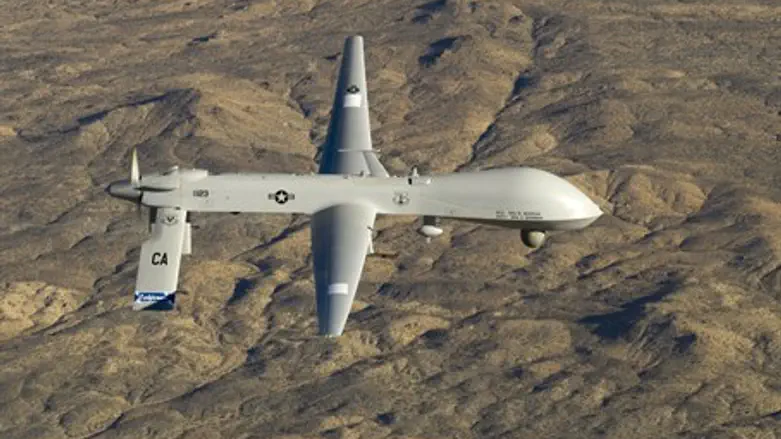 US Air Force MQ-1 Predator Drone (file)
Reuters
Syria's military has shot down a US drone over the coastal province of Latakia, a stronghold of President Bashar al-Assad, state media said on Tuesday.
"Syrian air defenses brought down a hostile US surveillance aircraft over north Latakia," the official SANA news agency said in a breaking news alert, according to AFP.
Latakia has been a sensitive area, with Israel striking the Latakia port in late 2013 to block the transfer of advanced S-125 missiles being stored there to Hezbollah terrorists in Lebanon.
Israel reportedly struck the Latakia port city again last January to block advanced Russian S-300 missiles from falling into Hezbollah hands.
The latest incident comes as the US has been leading a multi-national force in airstrikes against the Islamic State (ISIS) terrorist organization in Syria, after originally starting the strikes against ISIS in Iraq.
The move to bombing ISIS in Syria initially raised tensions given that the coalition did not intend to ask Assad's regime for permission to enter Syrian airspace. Assad until now has not reacted, and the strikes have weakened the ISIS forces that threaten Assad.
It remains to be seen what sort of reaction the shooting down of the drone will elicit from the US.
Last December, Syria similarly claimed to have shot down a drone, this time an Israeli drone in the Golan Heights. The report came two weeks after Syria accused Israel of carrying out airstrikes against two government-held areas in Damascus province.
After the alleged Israeli airstrikes, Arab media outlets reported that the airstrikes targeted Syrian military sites that were being used to store arms destined for Hezbollah, thereby posing a direct threat against Israel.