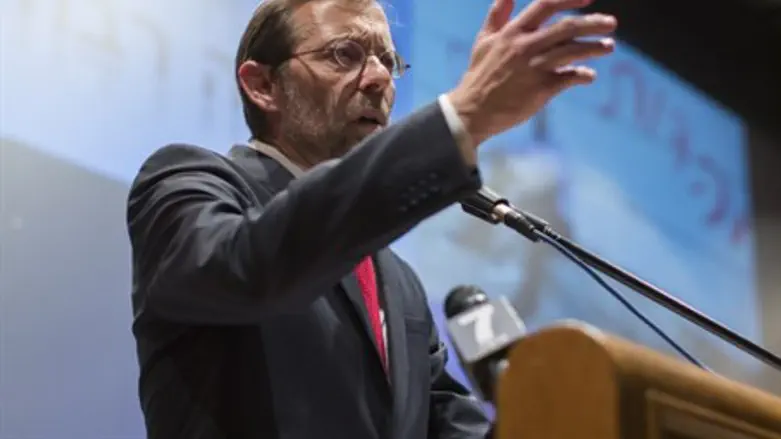 Moshe Feiglin
Yonatan Sindel/Flash 90
MK Moshe Feiglin, formerly of Likud but who recently broke off announcing he would launch his own party after a poor showing in Likud primaries, has contacted Prime Minister Binyamin Netanyahu asking for his help in obtaining permission to ascend the Temple Mount.
Feiglin's personal request calls on Netanyahu to help him have the police let him visit the holiest site in Judaism on the day of his son David's marriage.
"With G-d's mercy my son will come tomorrow into the union of marriage," wrote Feiglin. "This is my son David who underwent a serious traffic accident. I have no words to explain the excitement and gratefulness that fill my heart for the miracle we are meriting with David's return from death's doorstep to establishing a home in Israel."
As noted by Feiglin, his son David was critically wounded in a 2010 traffic accident adjacent to Alfei Menashe, located in western Samaria. David was unconscious and hospitalized for a long period of time at the emergency treatment department of Schneider Medical Center in Petah Tikva, before finally recovering from the potentially fatal crash.
Feiglin emphasized in his letter to Netanyahu "the disagreement between us regarding the management of the Temple Mount and its consequences on Israeli sovereignty in Jerusalem - is known."
"The prohibition that you decreed specifically on members of Knesset - representatives of the sovereignty - not to ascend the Mount, is infuriating, and unacceptable to me," wrote Feiglin. "However, I expected that my discreet request to the Israeli police in this unique case would be answered positively."
"From the response I received and the short time remaining, I understood I have no choice and therefore I turn to you directly and openly as a citizen to his prime minister," he added. "I request and demand that you allow me to exercise my rights to ascend together with my son to the Temple Mount on the day of his wedding as every citizen of Israel is entitled to."
Feiglin stressed "this is a one time event which has no possibility of being made up for at a different time."
The Jordanian Waqf (Islamic trust) has been left in de facto control of the Temple Mount ever since it was liberated by Israel in the 1967 Six Day War; the Waqf has forbidden Jewish prayer by fiat, despite the fact that Israeli law ensures the right of worship to all at holy sites.
Netanyahu has in the past promised Jordan, the European Union and other world powers that he would allow Jews to visit the Temple Mount but would concede to the Waqf prohobition on Jewish prayer, in breach of Israeli law. More recently visits by MKs were banned in a concession to Arab rioters who constantly fill the holy site with violence.