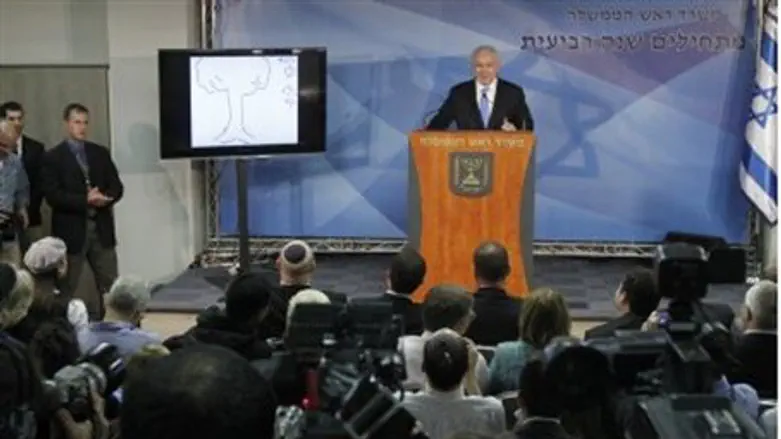 Netanyahu and the press (file)
Miriam Alster, Flash 90
Channel 10's senior political journalist, Raviv Drucker – the journalist Prime Minister Binyamin Netanyahu refused to be interviewed by last week – has admitted in an article in Haaretz that Netanyahu is right when he says there is a huge campaign against him, and that the campaign is funded from abroad and includes the mainstream media.
But he sees nothing wrong with that.
In the article, penned Sunday, Drucker recalls the debate between the New Israel Fund's Martin Indyk and Minister Naftali Bennett at the Saban Forum last December, and says it was a seminal moment in which liberal Jews who sat in the audience decided to give "a lot of money" to the movement for ousting Netanyahu.
"Yes, Mr. Prime Minister, you are right," writes Drucker unrepentantly. "The forces acting to topple you are immense. Most of the media is working for it, big money is flowing to that goal, there has not been anything like it since 1999. Ex-generals, businessmen, senior officials, all of them dreaming of the modest ceremony in which you will bid goodbye to your position."
Drucker claims, however, that the movement for keeping Netanyahu in power is doing the same thing. "Israel Hayom has increased its circulation by 100-150 thousand copies per day. Big money from overseas, much bigger than what is being invested in V15, goes to spreading Netanyahu's propaganda in the guise of a newspaper."
"The fact that most of the media opposes Netanyahu is seen as unfair. We have been trained to believe that the press must be 'balanced,' symmetrical, but what if we are being ruled by a particularly bad prime minister, whose continued rule endangers all of us?... Maybe the press is behaving now as it has not behaved for six years, because Netanyahu's level of functioning is unbearable?"
Drucker admits that for months, Yedioth Aharonoth and Ynet "have been looking at Israeli reality only through the prism of 'what will damage Netanyahu,' but most journalists (and the former generals, officials and businesspeople) really think Netanyahu is the worst prime minister we have had in decades."
In the latest case of blatant media bias to incense Israelis, a major news site reported the number of participants in Sunday's nationalist rally in Tel Aviv as 13,000, prompting outrage among participants and observers. Organizers estimated the number at 100,000.
News1 editor Yoav Yitzhak warned readers last week that the polls being published are not necessarily accurate. "Guys, don't believe the polls," he wrote. "Some of them are purposely slanted.Yedioth Aharonoth refrained from publishing a poll last weekend whose results indicated that Likud is gaining strength."
Netanyahu gave weekend interviews to Channels 2 and 11. He agreed to give an interview to Channel 10, too, but his condition was that Drucker, who has been attacking him and his wife ferociously for years, not be the interviewer. Channel 10 decided to forego the interview.