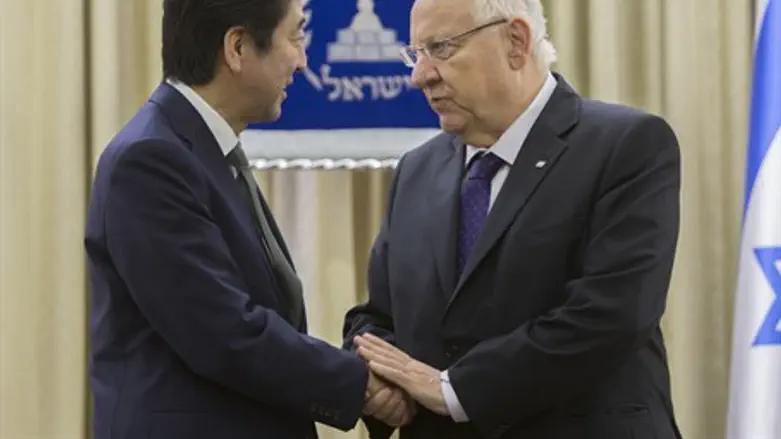 Japanese PM Shinzo Abe, Reuven Rivlin
Yonatan Sindel/Flash 90
President Reuven Rivlin on Thursday afternoon hosted 20 Israeli ambassadors and diplomatic mission heads to Asian-Pacific countries at the Presidential Residence in Jerusalem.
"The friendly relationship between Israel and the rising powers in Asia represents an economic and strategic opportunity for both sides," Rivlin told them. "As a state which seeks new markets for trade, the connection with Asia is more important than ever to Israel."
The president stressed "Israel is more and more turning to face the East, we are witnessing cross-fertilization in the fields of education, industry, tourism, and security."
Illustrating how the expanding connections are developing, Rivlin added, "experts, tourists, and politicians visit in each direction, learning and proposing ideas, and I have no doubt that you play a central role in that."
Rivlin's words follow those of Prime Minister Binyamin Netanyahu, who in January said Israel is turning away from the West and towards Asia, given hostile postures exhibited by European nations towards Israel and the open opportunities of trade with burgeoning Asian super economies.
Netanyahu's comments came amid an historic visit by Japanese Prime Minister Shinzo Abe, which capped off a year of dizzying development in Israeli-Japanese bilateral ties in which the two nations moved towards becoming key allies. Japan holds the world's third-largest GDP and possesses some of the most advanced technology on the planet.
Israel's ties with India have likewise been blossoming, particular in the field of defense, and particularly since Narendra Modi took over as prime minister last year.
And connections with China, owner of the second-largest GDP in the world, have also been surging, with talks on a free trade agreement with Israel on the immediate horizon.