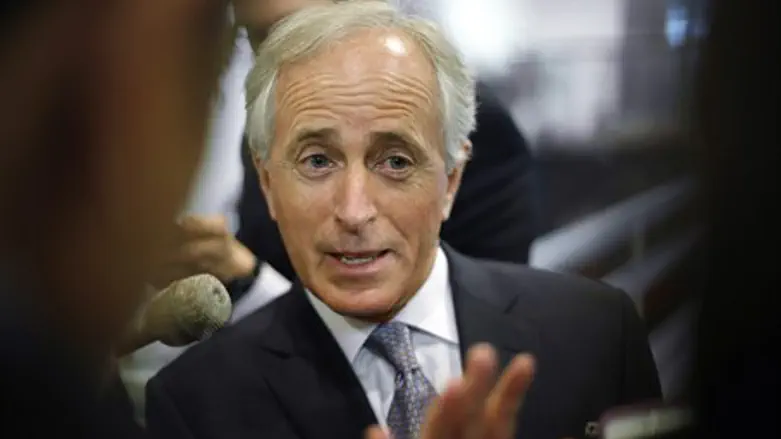 Senator Bob Corker
Reuters
Senate Foreign Relations Committee Chairman Bob Corker on Thursday warned President Barack Obama against taking a potential nuclear deal with Iran to the UN Security Council while bypassing Congress.
"There are now reports that your administration is contemplating taking an agreement, or aspects of it, to the United Nations Security Council for a vote," Corker, a Republican from Tennessee, said in a letter to Obama quoted by Yahoo News.
"Enabling the United Nations to consider an agreement or portions of it, while simultaneously threatening to veto legislation that would enable Congress to do the same, is a direct affront to the American people and seeks to undermine Congress's appropriate role," he added.
Corker is the main author of legislation aimed at giving Congress an up-or-down vote on any accord that results from the ongoing negotiations between Iran and the West. The White House has threatened to veto the measure, which currently does not have enough support to overcome the president's rejection.
The United States and the five other world powers have set a deadline later in March for reaching a framework agreement with Iran meant to prevent Tehran from developing a nuclear weapon.
Obama has made clear that he will not submit any such deal to Congress for approval. Republicans warned in a letter to Iran earlier this week that doing so may mean that Congress or the next president will act to nullify the accord.
Yahoo News noted that the Obama Administration could decide to put all or part of a deal, if one is reached, to a UN Security Council vote. Success would be virtually certain, because the negotiations currently group the council's five veto-wielding permanent members.
While the State Department has declined to specify how any agreement would be implemented, the report noted, Iranian Foreign Minister Javad Zarif said this week in a response to the Republican opponents of the negotiations that the council would back any accord.
"It will not be a bilateral agreement between Iran and the U.S., but rather one that will be concluded with the participation of five other countries, including all permanent members of the Security Council, and will also be endorsed by a Security Council resolution," Zarif said, according to Iran's Foreign Ministry.