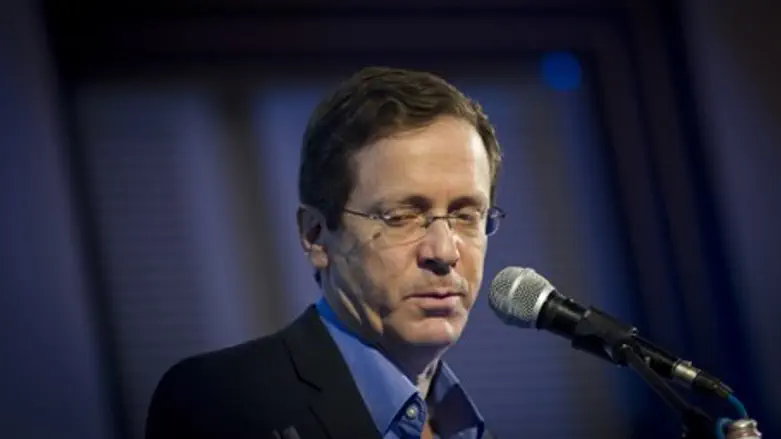 Yitzhak Herzog
Miriam Alster/Flash 90
MK Yitzhak Herzog, leader of the "Zionist Union", said on Thursday that he would not give away parts of Jerusalem as part of a peace agreement with the Palestinian Authority (PA).
Speaking to Channel 10 News, Herzog did not rule out that "some sort of arrangements" could be worked out, but stressed, "Jerusalem must remain united as Israel's capital. Period."
Herzog was asked about the plan proposed by former U.S. President Bill Clinton in 2000, which called for Jerusalem to be divided and for large settlement blocs to be annexed. Herzog at the time served as Cabinet secretary for then-Prime Minister Ehud Barak and, while he was not eligible to vote for the plan in that capacity, he did express support for it.
"Many years have passed since then, and the way to deal with an agreement today is to see whether there even is someone to talk to," he explained, adding, "We must examine whether the Palestinian leadership is ready to go for such a move" but admitting that at this point it seems to him that "the Palestinians are not there."
Herzog also told Channel 10 he intends to adopt a policy of deterrence against Hamas. He stated that he would not release terrorists and would not negotiate with terrorists and added that he plans to deploy troops in the Gaza Belt communities to provide increased security, and to mobilize the international community towards the demilitarization and reconstruction of Gaza.
Herzog several months ago vowed that he would keep the Western Wall under Israeli sovereignty, statements which Prime Minister Binyamin Netanyahu later dismissed.
Shortly after being elected Labor party leader, Herzog made a different statement, saying he envisions land swaps and the division of Jerusalem with the PA.