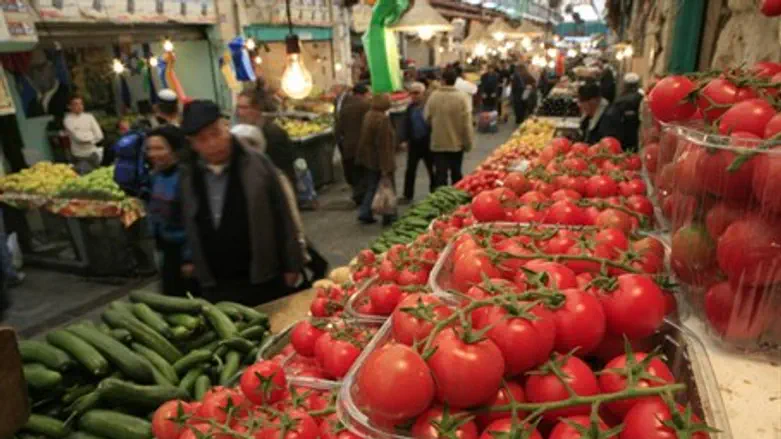 Tomatoes (illustration)
Flash 90
Vegetables harvested in Gaza will be exported to Israel for the first time in eight years on Thursday, the Palestinian Arab Ma'an news agency reports.
A Gaza merchant, Salim Abu Samra, told the news agency on Wednesday that four truckloads of Gaza tomatoes and eggplants would be shipped from the coastal enclave.
He confirmed that it would be the first shipment of its kind since Israel imposed a military blockade on Gaza in 2007 when Hamas violently took control of Gaza from rival Fatah.
Before 2007, Gazan farmers used to regularly export carnations and strawberries to markets in the Middle East and in Europe, noted Ma'an.
Reports last week indicated that the Gaza produce will be sold in Israel to make up for production shortfalls due to rules against working the land in Israel during the shemittah sabbatical year.
The Gaza produce will be allowed to enter Israel after it is evaluated by Israeli health officials. The crop will be inspected for health issues, and the shipment containers will be inspected to ensure that no weapons or other contraband are smuggled into Israel. Palestinian Authority tax officials will assist in the inspection.
While exports from Gaza to Israel have been halted in recent years in an effort to crack down on the transfer of terror materials to the Hamas-run region, Israel has continued to import fruits, vegetables and other aid to Gaza.
Hamas, for its part, has threatened to stop importing Israeli fruit to the enclave in response to Israel blocking exports to the Palestinian Authority (PA) and Jordan.
In January, however, Hamas had a "change of heart" as it said it would allow "Zionist" products such as soft drinks, clothes, coffee, and other Israeli goods into Gaza.
Hamas has already threatened another war if Gaza is not "rehabilitated" from Operation Protective Edge last summer - a war against Israel which Hamas itself both started and used civilian areas as a base for conflict.