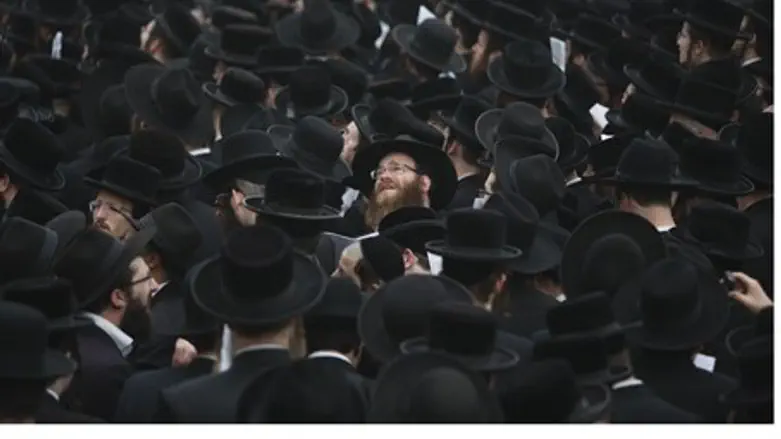 Hareidi men (illustration)
Yonatan Sindel/Flash 90
Haredi Israelis must go out and vote, was the message at a mass rally in Bnei Brak Wednesday. Leading the rally were MKs from United Torah Judaism, which claims to represent Ashkenazic haredi Jews (Sephardic haredi Jews are mostly expected to vote for Shas).
The rally came as a response by UTJ and more "moderate" haredi community leaders to insist that community members vote next Tuesday. A haredi group known as "the Jerusalem wing" has been accused using intimidatory tactics to persuade haredi community members not to vote as a "protest against Zionism."
Attendees were treated to a rare sight – a public appearance and speech by Rabbi Aharon Leib Steinman, now over 100 years of age and acknowledged as the supreme rabbinic authority in the haredi Askenazi community. He told all those attending to go out and vote next Tuesday, and thus "sanctify the name of heaven" with a large party demanding a place in the government.
"It is forbidden to refrain from voting," said Rabbi Haim Kanievsky, another top rabbi in the Ashkenazic yeshiva world. "Anyone who does not vote will have responsibility for any damage that will result" from a weakened UTJ. "UTJ MKs do not make a move without asking the great rabbis," he added.
Confirming that, UTJ MK Moshe Gafni said that "we will fight and do everything that is necessary, as Rabbis Steinman and Kanievesky will instruct us to. We must all vote for UTJ next week, for the sake of all Israel."