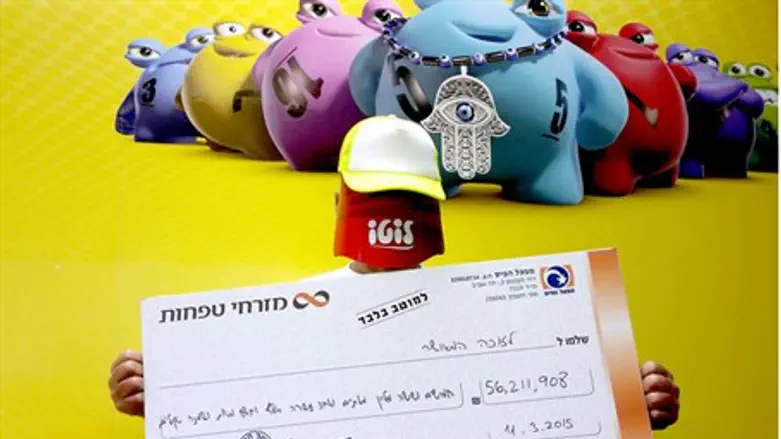 Masked lotto winner (illustrative)
Israel Lottery
After a lifetime of hard work, an elderly couple got their "reward," winning 56 million shekels ($14 million) in Saturday night's Lotto draw. On Wednesday, the winners secreted themselves into lottery headquarters in central Tel Aviv to collect their winnings.
Speaking to reporters, one of the winners said that he had prayed for the money, noting "I am not a religious person, but I do believe in G-d. Apparently this time He chose to hear my prayers and help me."
Already on Sunday, the winner said, he and his wife realized what had happened, but they continued "acting normally in order not to raise suspicions."
"The only thing that changed was our feelings. We couldn't sleep at night, all we could think about was the fact that we won. I wanted to come on Tuesday, which the Torah says was blessed twice, but I was still too excited, so I decided to postpone it until Wednesday," he said.
The man noted that he and his wife were still absorbing the fact that they won, and had not decided what to do with the money yet.
The winners appeared at lottery headquarters wearing the traditional "winner's mask." Unlike in the US, the identity of lottery winners is kept secret, in order to allow them to avoid cheats, relatives, and those seeking donations – at least until they get the money into their own accounts.