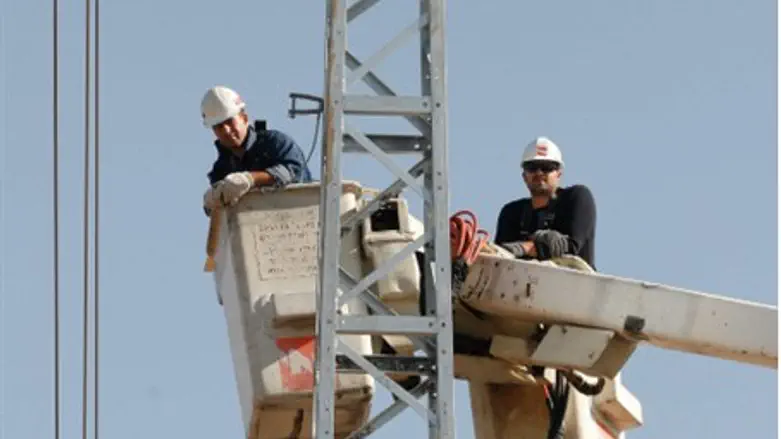 Electricity technicians at work (file)
Flash 90
The brief power cut-off by the Israeli Electric Corporation (IEC) late last month apparently got the message through to the Palestinian Authority (PA), which has ignored its massive electric debt for years, as the PA government called for steps on the enormous sum it owes.
The PA government in Ramallah met on Tuesday, and "called on all residents to heed their electricity account payments to the conduction companies and the regional authorities, so that it will be possible to pay the debts to the Israeli company."
In making the public call, the PA noted it was taking the step "after the company (IEC - ed.) twice cut of the electricity two weeks ago to regions in Nablus (Shechem - ed.) and Jenin and threatened to cut it off again and expand to additional regions."
The PA owes over 1.8 billion shekels ($450 million) in electric debts, leading the IEC to cut electricity in the Jenin and Shechem regions on February 23 for 45 minutes, and on February 25 again for a brief period. A temporary settlement was reached between the IEC and the PA the following day.
In its statement, the PA government also condemned Israel's continued withholding of taxes it collects for the PA. That step was taken as a punitive measure after the PA joined the International Criminal Court (ICC) to sue Israel for "war crimes," in a unilateral measure breaching the 1993 Oslo Accords that formed the PA.
This month marks the third in a row in which Israel is withholding the transfer of the taxes, and the PA said it views as "an act of theft" Israel's transfer of some of the funds to the IEC as payment for the years of electricity the PA has received without paying.
On the political front, the PA government said it supports the announcement by the Central Committee of the Palestine Liberation Organization (PLO), "which emphasizes the complete adhesion to the unquestionable national rights, among them the declaration of independence, the right of the Palestinian state to realize its sovereignty on its land, the establishment of the independent state of Palestine on the June 4, 1967 borders with its capital in Jerusalem, exercising the right of return for refugees according to resolution 194 and the Arab peace initiative, and the right of self-definition for our Palestinian people."
The PLO was an internationally recognized terrorist organization, as was PA Chairman Mahmoud Abbas's Fatah faction, until the Oslo Accords removed that recognition. It's charter calls for "armed struggle" to replace Israel with "Palestine," a call it has acted upon countless times in the past.