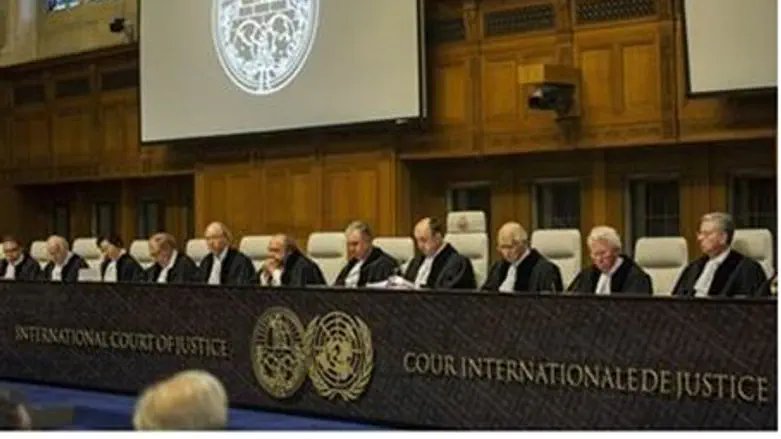 International Criminal Court (ICC)
Reuters
The Palestinian Authority (PA) is revving its motors, announcing that it is actively preparing legal documents against Israel in the International Criminal Court (ICC). The PA joined the Hague in December.
Qais Abd al-Karim, Deputy Secretary General of the ''Democratic Front for the Liberation of Palestine" (DFLP) terror organization and a member of the National Commission in charge of ties between the PA and ICC, stated Monday that the Commission continues to vigorously prepare legal cases against Israel for Operation Protective Edge in Gaza - during which Israel defended itself from over 3,000 rockets from Hamas - and against "settlements" on Jewish areas of Judea and Samaria. 
Karim added that the Commission collects "data and evidence" with the help of human rights organizations and is preparing the legal arguments to be presented to the ICC after it is declared "the State of Palestine" by the court on April 1, 2015. 
He said the Palestinian Authority believes that it has strong legal arguments over whether the communities are "war crimes", and it will use this against ministers, Knesset members and army officers who lived or still live in Judea-Samaria in what it claims is "contrary to international law." 
Regarding the charge of "settlement activity," it was thoroughly proven in the 2012 Levy Report that Israel's presence in its Biblical heartland of Judea and Samaria is legal under international law.
It has been noted that by turning to the ICC, the PA has left itself open to war crimes charges against it as well, particularly as PA Chairman Mahmoud Abbas's Fatah faction proudly boasted of firing rockets from Gaza at Israeli civilian centers last summer in a blatant war crime.
The lawsuit at the ICC also leaves the PA's "unity partner" Hamas, itself a terrorist organization with the genocide of Jews written into its very charter, open to investigation as well.
Despite this, the ICC nonetheless announced in January that it was launching a "preliminary examination" into possible war crimes committed by Israel against Palestinian Arabs.