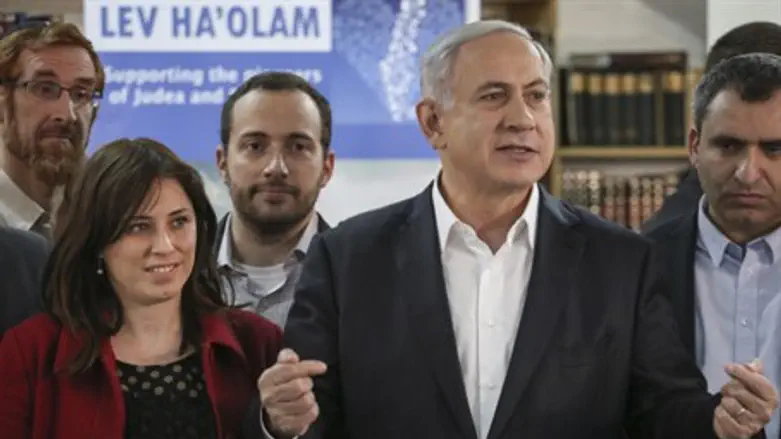 Tzipi Hotovely, Binyamin Netanyahu, Ze'ev Elkin
Hadas Parush/Flash 90
Prime Minister Binyamin Netanyahu has denied a publication from Saturday which claimed he had renounced his controversial 2009 Bar Ilan speech in which he supported the establishment of a demilitarized Palestinian state, a spokesman said on Monday.
In the Friday brochure Olam Katan that was distributed at synagogues this Shabbat, Deputy Minister Tzipi Hotovely (Likud) claimed Netanyahu had said the Bar Ilan speech "is void."
But Netanyahu "never said such a thing," his spokesman said Monday, while stressing the time was not right for any territorial concessions to the Palestinian Authority (PA), reports AFP.
"Netanyahu has for years been stressing that under the current conditions in the Middle East, any territory that would be handed (to the PA) will be seized by extremist Islamist elements," he said.
A Likud spokeswoman had earlier clarified that the remarks in the pamphlet did not reflect that positions of the party, and were the personal opinion of Hotovely.
Hotovely had also written in the pamphlet that "Netanyahu's entire political biography is a fight against the creation of a Palestinian state." 
The latest backflip regarding the Bar Ilan speech comes as Netanyahu is being hit by several reported documents alleging to attest to his willingness to make large concessions and create a Palestinian state.
One such report last Friday allegedly showed a list of concessions Netanyahu was ready to make, but Likud dismissed the report as being an American peace agreement outline that Israel never agreed to. Jewish Home Chairman Naftali Bennett insisted that the report was accurate.
In another report Monday, Netanyahu's representative was said to have agreed to a Palestinian state along the 1949 Armistice lines, but in response Likud said no concessions had ever been agreed to.
some have claimed that Netanyahu is already conceding and dividing Jerusalem in a de facto manner, by freezing Jewish building for years while allowing rampant illegal Arab construction.