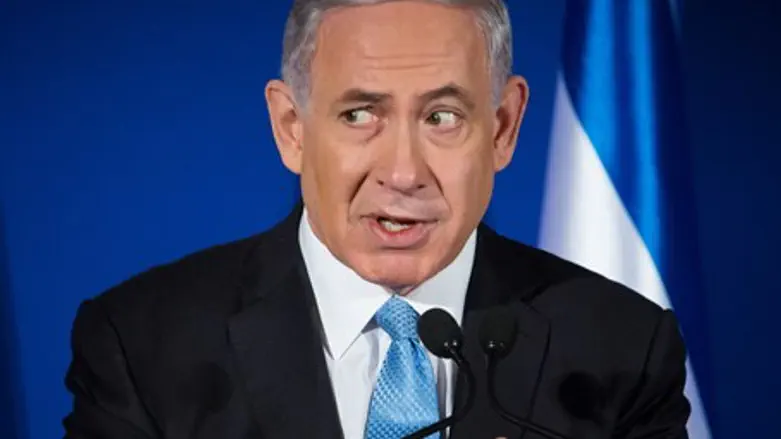 Binyamin Netanyahu
Hadas Parush/Flash 90
Prime Minister Binyamin Netanyahu has come out with a new elections campaign advertisement, showing him playing Monopoly and forcefully refusing to give up Jerusalem. 
The ad has Jerusalem Councilman and Israel Land Fund director Arieh King livid.
"To the most famous Monopoly player in the country - can you explain why, for years, you are preventing discussion on plans 14029 and 14151?" asked King on his Facebook page on Sunday.
Included in the post was a document dated January 2013 from Netanyahu's previous term as prime minister, which was a response to a request for the two building plans in the Shimon Hatzadik neighborhood in Jerusalem, where an Arab terrorist attack occurred just this last Friday.
In the response letter from the Deputy Prime Minister's Office, Netanyahu's representatives give a surprising reason for not even discussing the building plans.
"Unfortunately there is an obstacle to discussing this issue due to political reasons, when the relevant permits for these plans are received they will be raised for discussion," the document reads.
King notes the plans have remained frozen since then, indicating that Netanyahu's Jewish building freeze in eastern Jerusalem, Judea and Samaria goes back much farther than the recent covert freeze during his current term.
"You still believe Bibi (Netanyahu) despite the fact he's lying to the public and for more than six years is acting to divide Jerusalem and creating facts on the ground," warned King.
The councilman noted "in eastern Jerusalem Bibi is acting to divide the city" by forbidding entry to eight neighborhoods for Jews only since he took power in 2009, "and he is freezing building for Jews."
Explaining the document in question, King noted it is "a direct order by Netanyahu not to allow Jews to build in Shimon Hatzadik for 'political reasons.'"
King, who has previously criticized Jerusalem Mayor Nir Barkat for his complicity in the developments in the capital by allowing rampant illegal Arab building, as well as Jerusalem Affairs Minister Naftali Bennett (Jewish Home) for turning a blind eye to the issue, concluded by saying "there was never a greater conceder and withdrawer in Jerusalem than Binyamin Netanyahu."
"We need Netanyahu as prime minister, but we need a weak Likud, because a strong Likud = a weak Jerusalem," wrote King. "We need to strengthen Jerusalem from the right of Likud."
Explaining King's support for Netanyahu as prime minister is the fact that his opponent, Labor chair Yitzhak Herzog, has openly called to divide Jerusalem, and his rotating prime ministerial replacement, Hatnua chair Tzipi Livni, has expressed a similar line.
What does King mean when he calls on Israelis to vote to the "right of Likud"? The councilman, who ran as number four on Otzma Yehudit's list in the last elections when the party was named Otzma Leyisrael, has voiced his support of the joint list of Otzma Yehudit and Yachad - Ha'am Itanu.