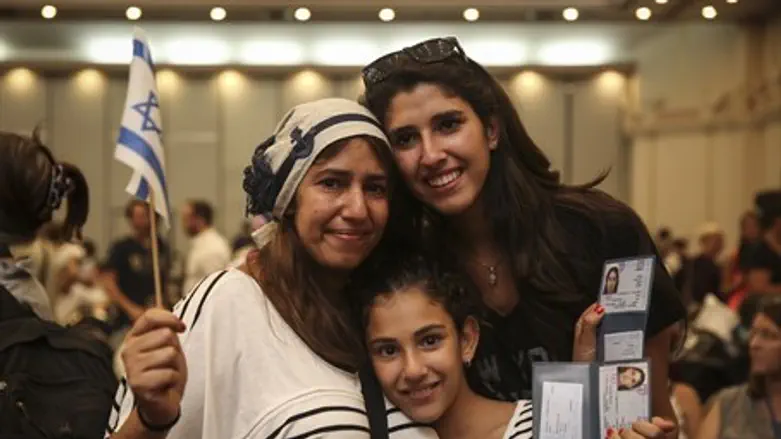 French Jewish immigrants (illustration)
Flash 90
Israel may face an uphill battle attracting new immigrants from France and Ukraine over issues of professional recertification. Recent immigrants from North America and France have reported long waits and overbearing recertification tests that emphasize 'book smarts' over the years of experience that many of these medical professionals have accumulated in their fields.
Advocate Ariel Aerlich of the Kohelet Policy serves as his organization's Director of Litigation. He has dealt with several cases in Israeli courts, where he sees an obstinate Israeli policy overwhelming the profound interests of the country and its newest citizens.
"Many Jews around the world today are looking to leave their countries of origin, and are debating whether to go to Israel or to immigrate to another country," he stated in an interview with Arutz Sheva on Sunday. "There are countries where conditions are easier for recognition of licenses, and my concern is that many Jews will immigrate to those places."
Kohelet works almost exclusively through private channels and directly with members of the Knesset, choosing to concentrate its energies on appealing to Israel's leaders directly on policy changes.
On Aliyah, however, Adv. Aerlich emphasizes that Israeli bureaucracy is more often suspicious of new immigrants than welcoming.
"In a number of fields the State of Israel makes it difficult to transfer recognition of professional licenses from other developed countries and is too suspicious," he noted. "This attitude is particularly problematic if Israel is considered a country that encourages immigration and sees itself as open to the absorption of Jews from across the Diaspora."
Adv. Aerlich spoke of one situation where an immigrant on a working visa was able to get a "limited license" to work in his profession in Israel.
But after declaring Aliyah, his work status was ironically revoked. Not only did he need to take the test to be certified as an Israeli, he also needed to wait six months before the scheduled test in his field.
Aerlich notes that Yesh Atid MK Elazar Stern's draft law – the Physicians Act – suggested extending a limited license to new immigrants. He says the Ministry of Health agreed in principle to the changes, but that the law did not reach a final vote because of the collapse of the government.
"Hopefully with the new Knesset, work on the law will continue and it will pass," he said. "I hope work will continue on it in the Knesset. "It's a ridiculous issue. After you become a citizen, you should be able to work."
"The government recognizes these problems and appointed a team to make recommendations to improve the situation. The government has accepted the recommendations of the committee. Hopefully they'll be implemented soon."
Could health laws stymie French immigration?
The main issue lies with medical professionals, who have been made to take rigorous tests to pass for certification in Israel as if they had not been tested in the past. There have been efforts in the past by English-speaking immigrants to work with MK Dov Lipman and fellow Yesh Atid member and former Health Minister Yael German to resolve certain issues.
But for French Jews, the problem is much more acute. "Paramedical fields" – including physical therapy – are not learned in French universities but smaller colleges, which presents a bureaucratic issue in Israel.
"For the Jews of France there's an especially big problem, because all paramedical courses (in France) are taught in schools with non-university professional," he said. "Israeli law requires university degrees for these degrees in particular, and the Ministry of Health argues there is a need for that degree." 
"There are fields that are very popular among the French Jews, but the Ministry of Health has simply delayed for years and changing regulations that otherwise have to be implemented by law to enable certification for French professionals," he added. "Therefore, many have no licenses in Israel at all. This deters many new immigrants from going to Israel."
The deterrence comes from French Olim [immigrants - ed.] who have already made the journey and had to communicate the disappointing experience to other French Jews contemplating the trip.
Adv. Aerlich emphasizes the disconnect between simple bureaucratic policies and the country's interest in encouraging Aliyah – particularly in the wake of rising anti-Semitism in Europe – is glaring and needs to be repaired immediately.
"The State of Israel encourages immigration and absorption on the one hand, but the bureaucratic apparatus doesn't know how to adapt itself to professionals' needs. It's necessary to make these changes in order to influence the decision of French Jews debating whether or not to choose Israel and know whether or they can be absorbed here in a strong way."
"Let's all hope the fixes will happen and these problems will be resolved soon."