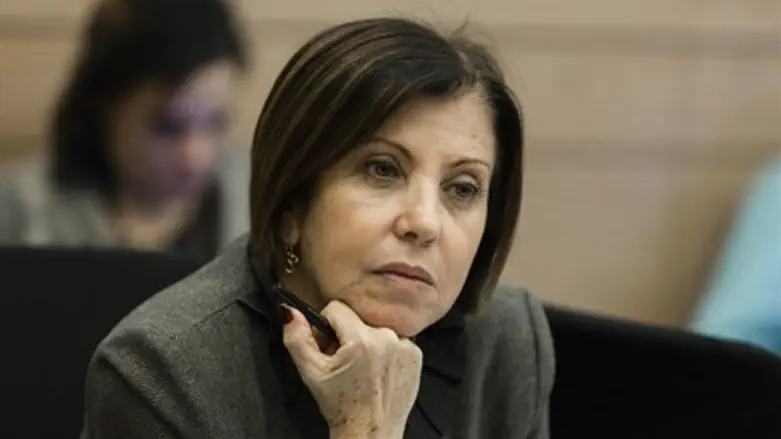 MK Zehava Galon
Flash 90
Meretz chairwoman MK Zehava Galon on Thursday declared that she believes she would be a good choice to serve as Education Minister in the next government.
Galon, who was responding to online questions submitted by users of the Haaretz newspaper's website, also said that, as part of a future peace agreement with the Palestinian Authority, Israel would have to evict some communities in Judea and Samaria but would also have to take the so-called "settlement blocs" into consideration.
"Ilan Gilon could be an amazing Welfare Minister and I can be a great Education Minister and also a good Interior Minister," she said, when asked what ministerial portfolio she would request if she ends up joining a government headed by Yitzhak Herzog.
Galon rejected the argument that her party is "Tel Aviv centric" and elitist. "It's time to eradicate this image which may have characterized Meretz in the past, but is no longer true. I do not think this is a valid question. Maybe we should be asked if we are Petah Tikva centered. We have two candidates from there in the top ten spots on our list, Michal Rozin and myself," she said.
Addressing the peace negotiations with the PA, Galon said that a political settlement based on the pre-1967 borders should be promoted.
"Land swaps, division of sovereignty in Jerusalem and the evacuation of settlements. However, the reality that was created on the ground would require taking the settlement blocs into consideration, agreeing on swaps and removing 100,000 settlers from their homes under an evacuation-compensation agreement," she said.
As of last week Meretz, an extreme leftist party which has for years advocated for the concept of a two-state solution, was losing strength in pre-election polls.
A poll released last Friday gave Meretz only four seats, falling even past the fledgling Yachad-Ha'am Itanu party.