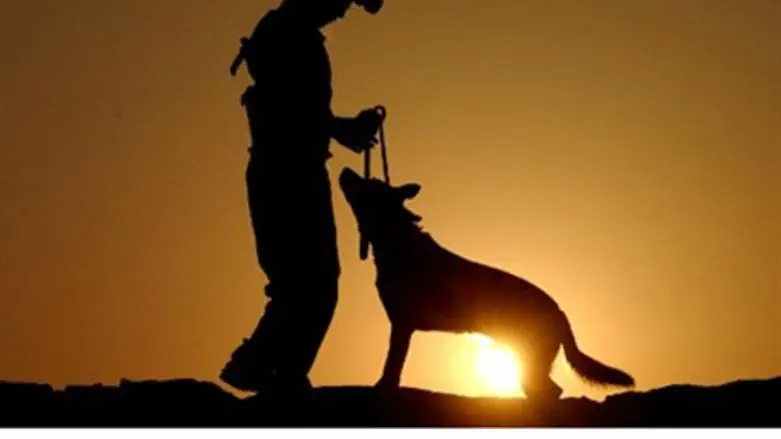 Soldier and dog (file).
IDF Spokesman's Unit
The Commander of Judea and Samaria Division, Brig. Gen. Tamir Yadai, presented Central Command Head, Maj. Gen. Nitzan Alon, with the results of the inquiry into the event in which an attack dog was used in an IDF ambush against terrorists near Karmei Tzur, in the Etzion Bloc.
The incident was caught on video and uploaded by former MK Michael Ben-Ari to his Facebook page. The 15-second video showed soldiers siccing a dog at a young Arab who had apparently been involved in rioting and saying "who's a coward?" The dog tugs at the boy's pants.
Ben Ari wrote that the soldiers "taught the little terrorist a lesson!" – but wound up landing the soldiers in trouble and giving Israel a PR black eye. He eventually removed the video, but by then it had circulated worldwide.
The Division Commander's inquiry found that the soldiers involved were carrying out an operation against terrorists who threw firebombs and damaged fences around Karmei Tzur. In the course of the defensive force's activities, dogs were used against rock throwers and rioters in contravention of the mission that had been defined by the brigade commander, and on which the force had been sent.
The mistaken use of the dogs, said the division commander, was partly because of a shift from the original plans, following developments on the ground. "This is a serious incident of use of dogs that indicates a low level of professionalism," he said. The commanders did not correctly estimate the potential for damage, and their behavior indicated improper values.
Brig. Gen. Yadai stressed, however, that the fight against terror must continue and that the use of dogs, in accordance with instructions and under the current limitations is necessary for carrying out the assignment and could save human lives.
The Division Commander issued several instructions:
Use of dogs will be halted until the professional instructions are re-learned.
Dogs will only be used with approval from the brigade commander.
The soldiers involved in the incident will be disciplined.
The IDF Spokesman noted that an investigation into the incident by the Military Investigative Police is ongoing.