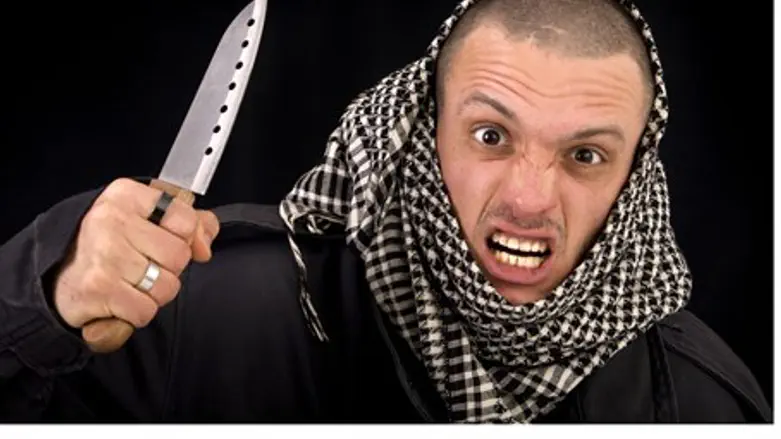 Never bring a knife to a gunfight
Thinkstock
An Arab terrorist was thwarted in his attempt to stab a group of Jews on Thursday, adjacent to the community of Yitzhar in Samaria.
The terrorist had approached a group of Israelis at a hitchhiking station with a knife in hand, preparing to strike.
At that point one of the Jewish residents pulled out a handgun, leading the Arab terrorist to turn tail and flee the site. No one was wounded in the exchange.
The foiled stabbing comes after a similar attempt near Jenin in Samaria on Wednesday morning, which fortunately also ended with no injuries.
In that attack attempt, an Arab man approached Border Patrol officers and aroused suspicion, at which they detained him and found a knife in his possession. Under interrogation, he admitted that he had intended to stab a soldier or Border Policeman.
Just last Thursday, a 17-year-old Arab terrorist arrived at the Gush Etzion Junction, pulled out a knife and began slashing at soldiers. A soldier standing next to the terrorist aimed and cocked his weapon, while other soldiers gained control over him.
And the series of stabbing attempts and stabbings goes on, as last Sunday a haredi Jewish man was stabbed in the stomach by an 18-year-old Arab terrorist at Jerusalem's Tzahal Square. He has since been released from hospital.
The stabber was caught by Jerusalem Mayor Nir Barkat and his bodyguard; security camera footage showed how Barkat and other members of his team tackled the terrorist, after the bodyguard pointed his gun at him.
In recent years there has been a noted trend of Israeli security forces rarely shooting to kill terrorists, even when they are actively trying to stab people, out of fear that they will be prosecuted afterward.