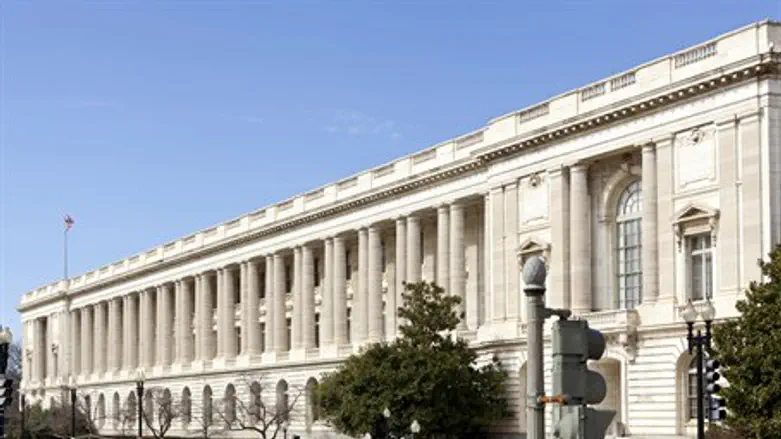 Senate building
Thinkstock
A group of Senate Democrats on Wednesday said they would vote against a bill on Iran they themselves are sponsoring if Majority Leader Mitch McConnell (R-KY) brings it up for a vote next week. 
The legislation in question would require the President to submit any final nuclear deal with Iran for Congress' approval.
McConnell said on Tuesday that the Senate would begin debate next week on the bill, which would mandate that President Barack Obama submit the text of any pact to Congress and bar the administration from suspending congressional sanctions on Iran for 60 days.
However, The Hill reported on Wednesday that Senators Bob Menendez (D-NJ), Bill Nelson (D-FL) and Angus King (I-ME) — all co-sponsors of the bill — said explicitly that they would vote no next week on the legislation if a vote is scheduled.
According to the report, Menendez is circulating a letter to McConnell signed by King and the other Democratic co-sponsors in which they pledge to oppose the bill if it is brought to the floor next week.
The other three Democratic co-sponsors are Senators Tim Kaine (VA), Joe Donnelly (IN), and Heidi Heitkamp (ND).
Democratic Senators Ben Cardin (MD), Chris Coons (DE), Chuck Schumer (NY) and Richard Blumenthal (CT) also signed the letter, according to The Hill.
They say McConnell should wait until at least March 24, the deadline for international negotiators to reach a framework agreement on a deal to rollback Iran's nuclear program, before bringing the bill to the floor.
The White House has already threatened to veto the bill, and at least 13 Democrats or Independents would be needed to reach a veto-proof majority, noted the report.
"I don't understand why this rush to the floor violating regular order, which the Majority Leader has called for, and bypassing the committee," said Menendez, ranking member of the Senate Foreign Relations Committee, adding he would not agree to consider it in the committee before March 24 either.
Democrats said Wednesday that McConnell's move to fast-track consideration of the bill to next week, after a joint congressional address by Israeli Prime Minister Binyamin Netanyahu, blew up bipartisan support for the bill.
"I think the bill — barring what happened yesterday — was headed for a veto-proof majority," said King. "I think yesterday derailed that to some extent.
"This is just too important for politics. This is one of the most important decision this country will be making in years and I just at least hope perhaps for once we can make the decision on the merits and not on the basis of who's up and who's down just to gain political advantage and whether to help the president or hurt the president," King added.
"Let's decide this very grave decision on the basis of what it actually does to Iran's nuclear prospects, and the prospects of limiting nuclear proliferation in the Middle East," he continued.
A spokeswoman for McConnell said on when the vote would be scheduled for, "We will have more scheduling announcements soon."
Meanwhile, Sen. Barbara Boxer (D-Calif.) and several other Senate Democrats introduced their own bill on Wednesday to require the White House to report on Iranian compliance with any deal. Boxer's bill could provide cover for Democrats who oppose other legislation introduced on Iran so far.