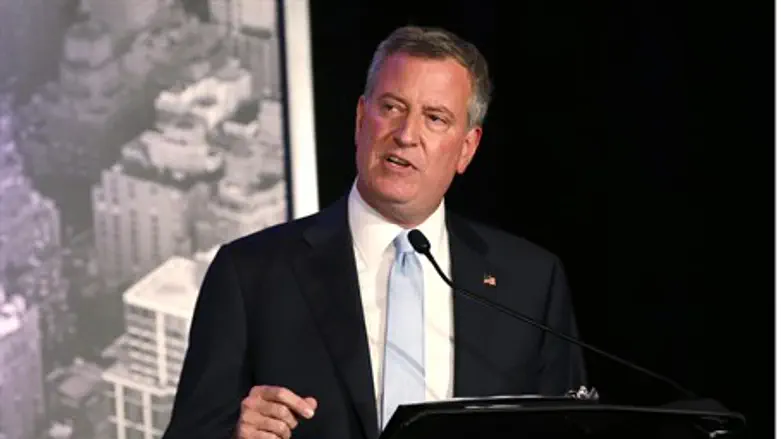 Bill de Blasio
Reuters
New York City Mayor Bill de Blasio announced on Wednesday that the city's public schools will be closed for two Muslim holidays, CNN reported.
Under the change announced by de Blasio and city Schools Chancellor Carmen Farina, there will be no classes for Eid al-Adha, also known as the Festival of Sacrifice, starting next September 24.
Another Muslim holiday, Eid al-Fitr, marking the end of the holy month of Ramadan, will become a holiday for those in summer school starting in 2016.
"This is a common-sense change," de Blasio said Wednesday, "and one that recognizes our growing Muslim community and honors its contributions to our city."
The decision affects some one million students in New York City. While it's not known exactly how many of them are Muslim, City Council Speaker Melissa Mark-Viverito said, according to CNN, that almost one million of the more than eight million people in the city's five boroughs practice Islam and a 2009 Columbia University study found that roughly 10% of New York City public school students are Muslim.
"Muslim students and their families who observe Eid al-Fitr and Eid al-Adha shouldn't have to choose between an instructional day and their religious obligations," said Farina. "This new addition will also enable a teachable moment in the classroom for our students to learn about religious tolerance and the societal contributions of various cultures."
Having schools close on the Muslim holidays was one of de Blasio's pledges when he ran for mayor in 2013, telling Muslim voters that New York should respect everyone's faith.
Linda Sarsour, executive director of the Arab American Association of New York and the parent of three public school students, said a plan in which students wouldn't have to choose between education and faith "a win for our children and for future generations in this country."
"Muslims are a part of the fabric of this country," she said, according to CNN. "We make our country proud, and today, New York City made us proud."
New York City joins school districts in other states, including New Jersey, Massachusetts and Vermont, that similarly observe Muslim holidays, according to a news release from Farina's office.
Eid al-Fitr and Eid al-Adha join other religious holidays already on New York's public school calendar. In addition to holidays like Easter that always fall on a weekend, students already have Christian holidays such as Good Friday and Christmas off, as well as the Jewish holidays of Rosh Hashanah and Yom Kippur.