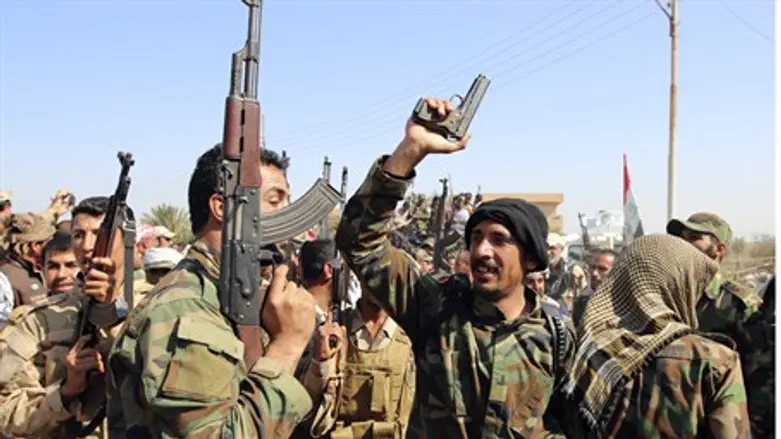 Iraqi soldiers and Shia militiamen dance ahead of offensive against ISIS stronghold Tikrit
Reuters
Some 30,000 Iraqi troops and militia backed by aircraft pounded Sunni jihadist positions in and around Tikrit on Monday in the biggest offensive yet to retake one of the Islamic State terror group's main strongholds.  
"Security forces are advancing on three main fronts towards Tikrit, Ad-Dawr (to the south) and Al-Alam (to the north)," an army lieutenant colonel on the ground told AFP by telephone.  
Iraqi forces are also "moving along side roads to prevent Daesh's escape," he said, using an Arab acronym for IS (also known as ISIS), which has controlled the hometown of executed dictator Saddam Hussein for nearly nine months.    
The operation, which is one of the most ambitious undertaken by Baghdad to roll back the gains made by IS last June, began in early morning after being announced by Prime Minister Haider al-Abadi the previous evening.
The army officer said the forces involved in the battle were from the army, police, counter-terrorism units, a government-controlled volunteer group known as the Population Mobilization units and local Sunni tribes opposed to IS.
"The attack is being carried out using fighter jets, helicopters and artillery targeting Tikrit to secure the advance and cut supply routes," he said.
Military sources said Iraqi warplanes were involved but it was not immediately clear whether foreign air support - Iranian or from the US-led coalition fighting IS - was also called in.  
Appeal to spare civilians
Abadi urged the security forces on Sunday to spare civilians during the operation.
Speaking from Samarra, the other main city in Salaheddin province, he appeared to be addressing fears of reprisals against the Tikrit area's Sunni population.
"The priority we gave to the armed forces and all the forces taking part alongside them is to preserve the security of citizens," he told reporters.
On social media, he called "for utmost care in protecting civilian lives and property."  
Many of the Shia Islamist militias - which, though fighting alongside Iraqi government forces, are financed, armed and trained by Iran - have been accused of committing widespread atrocities against Sunni civilians.
Hadi al-Ameri, the Popular Mobilisation commander and a central figure in Iraq's fightback against IS, appealed to Tikrit residents on Saturday to leave their homes within 48 hours so government forces could "wrap up the battle of the revenge for Speicher."
Speicher is a military base near Tikrit from which hundreds of new, mostly Shiite, recruits were kidnapped before being executed in the early days of the IS offensive that swept through much of the Sunni Arab heartland north and west of Baghdad last June.
Shiite militias in particular have vowed to avenge the Speicher executions, sparking fears of mass killings against Sunnis if Tikrit were to be recaptured.  
Some Sunni tribes in the Tikrit area have been accused of direct involvement in the Speicher massacre.
Abadi appealed to residents to turn against the jihadists, who have suffered a string of military losses since Iraq's foreign partners stepped up their support.
"I call on all those who were misled and made mistakes in the past to lay down their arms today. This may be the last chance," Abadi said, suggesting some could be granted amnesty.
Iraqi forces tried and failed several times to wrest back Tikrit, a Sunni Arab city on the Tigris river around 160 kilometres (100 miles) north of Baghdad.
AFP contributed to this report.