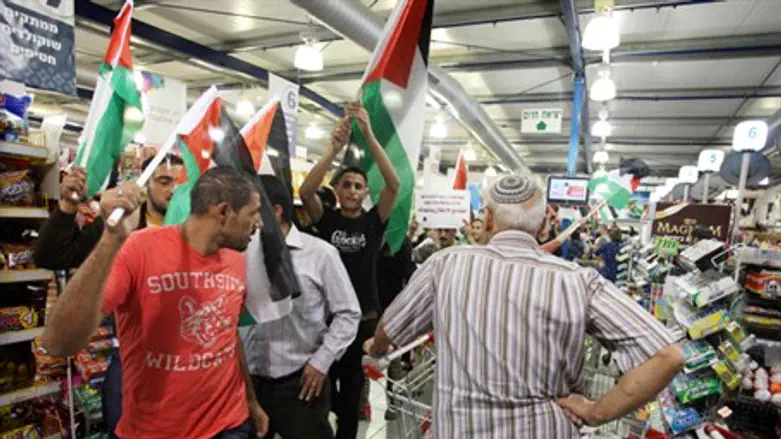 Anti-Israel boycotters (illustration)
Flash 90
80% of Palestinian stores in areas of Judea and Samaria controlled by the Palestinian Authority have stopped selling products belonging to six major Israeli food companies, Walla! reported Sunday.  
The leader of the boycott campaign against Israel, Abdullah Kamil, said Sunday night that the ban had gone into effect about a month after its first announcement. 
The companies included in the boycott are Tnuva, Strauss, Elite, Osem, Prigat, and Yafora. Any of these companies' products left on shelves will be destroyed by next week. 
Fatah activists claim the boycott is backed by PA Chairman Mahmoud Abbas, and that it serves as a retaliatory response to Israel's decision to freeze tax funds to the PA as well as other "Israeli violations."
Those measures came as a result of the PA's unilateral moves, including turning to the United Nations Security Council for statehood and joining the International Criminal Court in order to lodge a war crimes complaint against Israel. 
The campaign is titled "16% Lethal," in reference to their contention that 16% of the food companies' profits go to the Israeli government in taxes, thereby contributing to the killings of Palestinians. 
The boycott appears to be more effective than similar measures attempted previously, complete with a website allowing consumers to view alternative Palestinian products. 
According to Kamil, the ban on these Israeli products will continue until Israel agrees to transfer the tax funds to the Palestinian Authority.