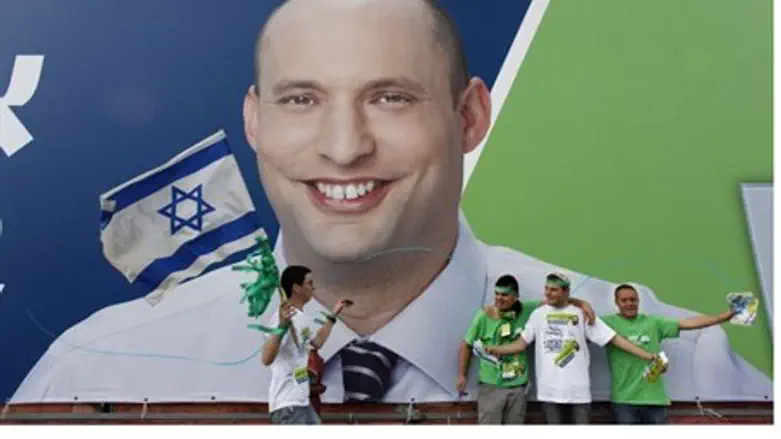 Supporters under Bennett billboard
Reuters
Deputy Minister of Education, MK Avi Wortzman (Jewish Home), has called on all religious Zionists to unite around Jewish Home Chairman Naftali Bennett ahead of the 20th Knesset elections. 
"When you look at all the issues of national, social, keeping the Torah world religion and state, see the Jewish Home is home," Wortzman stated, in a special interview with Arutz Sheva Thursday. "In recent years we have worked to strengthen the world of Torah, we have been the only party to strengthen the Hesder and post-high school yeshivas, and all the other institutions - and we also helped greatly the haredi world, and have worked on behalf of several haredi school systems, including Chabad." 
"Those who do not see the complexity and entirety of the Religious-Zionist sector, and its impact on national and economic issues, are missing out," he added. "There were twelve members of the Knesset who dedicated their lives for the benefit of the Torah, the economy and Judea-Samaria." 
He said those who think that because of this or that mistake they should vote for a different party, are making a big mistake.
"We all make mistakes - including myself - but for Bibi [Prime Minister Binyamin Netanyahu - ed.] to form a government with us, the Jewish Home must be larger, otherwise he will go in the direction of a unity government with the Left." 
"We all believe in the people of Israel and the Torah of Israel, including Ayelet Shaked and Yinon Magal - something Likud, Yachad-Ha'am Itanu, and Yesh Atid don't have," he continued. "Look at who is on the list and ask whether these are who you'd like to see in the Knesset." 
Wortzman also reminded the public that Bennett has been tremendously involved in defending Israel in the foreign press, particularly during Operation Protective Edge in Gaza this summer. The level of advocacy is unprecedented, he noted, and is a major step for the Religious Zionist community as well. 
''Naftali Bennett is attending the AIPAC conference next week - see what effect Religious Zionism now has on the most significant things, there is a huge change in the impact Religious Zionism has," he argued.
Jewish Home has garnered between 11-13 seats in the latest rounds of elections polls, down from as much as 18 earlier in the pre-elections process.