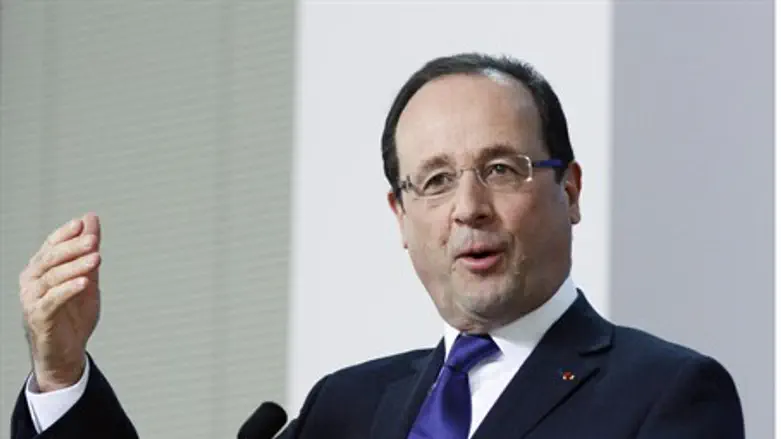 French President Francois Hollande
Reuters
French President Francois Hollande vowed Monday to introduce tougher penalties for "racist, anti-Semitic or homophobic" remarks in the wake of last month's terrorist attacks in Paris.
Speaking at an annual dinner hosted by the country's Jewish community and quoted by the AFP news agency, Hollande called for "faster, more effective sanctions" against hate speech and added, "I want such speech to come under criminal law rather than press laws."
Hollande said anti-Semitism should be treated as an aggravating circumstance in the prosecution of all offences.
Would-be jihadists would also face stiffer punishment under a draft intelligence bill to be unveiled next month, he said.
Earlier Monday, Interior Minister Bernard Cazeneuve announced that the authorities had confiscated the passports of six people suspected of planning to travel to the Middle East to wage jihad.
France is still on high alert following January's shooting rampage by three jihadists who attacked the Charlie Hebdo satirical magazine, a Jewish supermarket and police officers in a three-day campaign of terror that left 17 dead, including four Jews.
The violence in Paris and more recently in Copenhagen, where two people were shot dead in attacks on a cultural centre and a synagogue, has sparked fears of a major threat from radical Islamists.
Anti-Semitism in France, and throughout Europe, has been on the rise and flared particularly intensely during Operation Protective Edge, with violent protests in Paris.
In one incident, hundreds of Muslim extremists attacked a major synagogue in Paris, provoking clashes with Jewish youths who rushed to defend the site and worshippers trapped inside.
According to statistics released in late January, the number of anti-Semitic acts doubled in France during 2014, with acts involving physical violence leading the increase.
Some 851 anti-Semitic acts were registered in 2014, compared with 423 the previous year, with acts of physical violence jumping to 241 from 105.