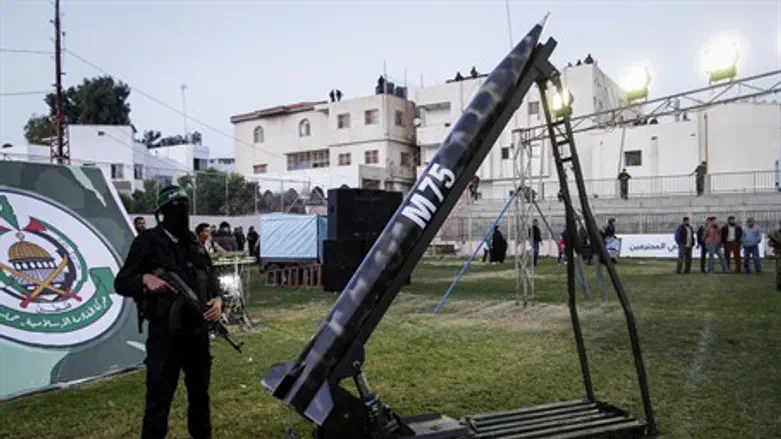 Hamas terrorist with domestically made M75 rocket
Abed Rahim Khatib/Flash 90
Slightly before 10 a.m. on Monday morning terrorists likely belonging to Hamas fired three rockets from Gaza into the Mediterranean Sea.
The rocket firing comes as part of an ongoing process by Hamas to continue domestic development of its rocket arsenal, as Israel has worked hard to prevent new weapons from entering Gaza.
In January the most recent rocket test took place, when a full ten rockets were fired by Hamas from the ruins of the Jewish community of Gush Katif into the Mediterranean Sea.
It has been noted that in each of the three terror wars Hamas launched against Israel it has significantly improved the reach of its rockets, with domestically produced M-75 long-range missiles and others rounding out the foreign Iranian missiles in the terror group's arsenal.
Foreign Minister Avigdor Liberman (Yisrael Beytenu) noted during Operation Protective Edge last summer that Hamas's range in 2008-2009 Operation Cast Lead was only 15 kilometers towards Sderot, but in 2012 Operation Pillar of Defense Hamas rockets were already nearing in on "the edges of Tel Aviv and Rishon Letzion."
"Now the rockets have already gone past Hadera," said Liberman at the time, referring to a northern town near Haifa located 165 kilometers (102 miles) from Gaza that was targeted by Hamas in the operation.
Hamas has not only been conducting tests to increase its range; since the truce last August terrorists in Gaza have breached the ceasefire at least three times in rocket barrages on Israel, which Hamas has denied responsibility for despite being in control of the coastal enclave.
The most recent attack occurred in December, just days before another rocket test and one day after Hamas held its largest military exercise since Operation Protective Edge on the ruins of two former Israeli villages - Dugit and Nissanit - in Gaza which were evacuated in the 2005 Disengagement plan, allowing Hamas to take over.
In response to the rocket attack, the IAF struck Gaza concrete factories used to rebuild the terror tunnels leading into Israel to attack Israeli civilians. During the operation, the IDF destroyed over 30 such tunnels, but since it ended Hamas has been busily rebuilding them.