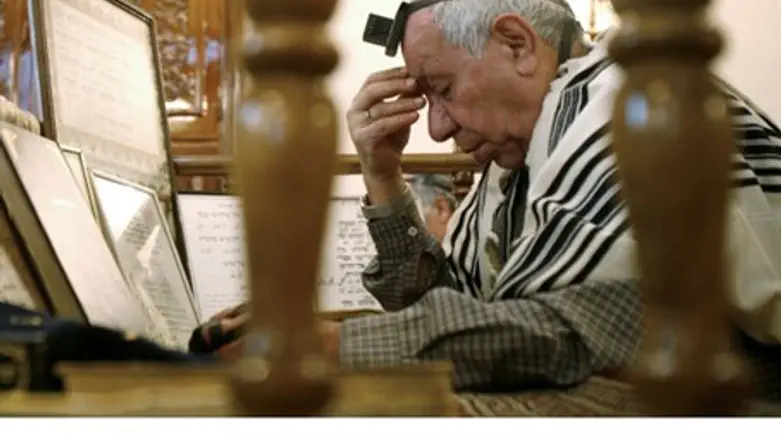 An Iranian Jew prays at a synagogue in Tehran, Iran (file)
Reuters
Iran's FARS news agency reports that an ancient hand-written Torah that had been stolen from a synagogue in southern Iran was found and returned by Iran's paramilitary Basij police force to the Jewish community.
The report has not as yet been confirmed by other sources.
A number of ancient Torah manuscripts were reported lost about two weeks ago from a synagogue in Shiraz, the capital city of Iran's Southern Fars province. Soon afterwards, Iran's Basij units succeeded in finding one of the holy books, described as "invaluable." The units returned it to the Jewish community on Feb. 11, which the news agency emphasized was the anniversary of the victory of the Islamic Revolution.

The lone representative of the Iranian Jewish community in the parliament, Siamak Mareh Sedq, wrote to Basij Commander Brig.-Gen. Mohammad Reza Naqdi and expressed his appreciation of the efforts of the Basij forces. Sedq wrote that the deed "displayed the respect and value that the Islamic establishment attaches to the divine religions."

The news agency reports that "Iranian officials have always underscored the necessity for respecting all religions and their followers in Iran. The President's Special Advisor for Religious and Ethnic Minorities' Affairs, Ali Younesi, said earlier this month that Islam - the official religion in Iran - has not allowed its followers to insult any religion, and instead has urged them to respect all believers." 
The U.S. State Department's International Religious Freedom Report for 2013 writes that in Iran, "officials threatened, detained and harassed members of almost all non-Shia religious groups…Countries such as Saudi Arabia, Iran and Sudan put severe restrictions on members of religious groups that did not conform to the state-approved religion(s)."
More than 8,000 Jews still live in Iran. Regarding the official government policy towards Jews, Sedq has been quoted as saying, "There is a great difference between being a Jew [in Iran] and being Zionist."