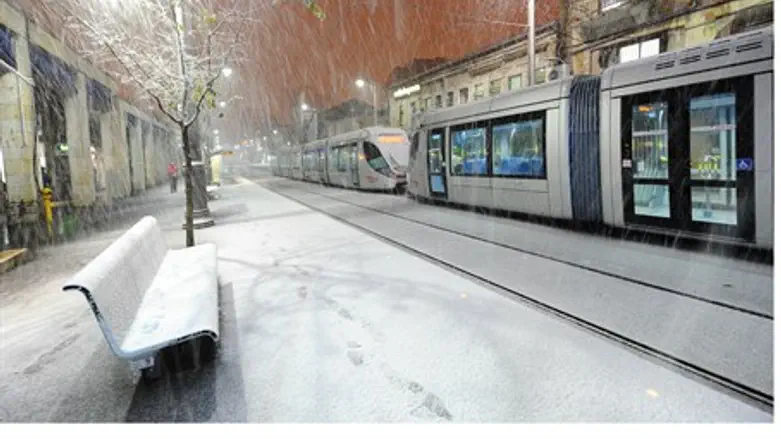 Jerusalem in snow (file)
Mendy Hechtman/Flash 90
 Israelis from the north to the Negev woke up to a blanket of white Friday morning, after snow fell in every place more than 300 meters above sea level. 
Jerusalem, the Gush Etzion region of Judea, Tzfat (Safed), and the Golan saw the most snow, but the storm hit other areas less prone to inclement weather - including several towns in the Negev.
The lower Golan Heights region, which was also blanketed by the blizzard, has not seen snow since 1992, according to Walla! News. 
As of Friday morning, some 30 cm (11.8 inches) of snow has fallen in Tzfat; 20 cm (7.8 inches) has fallen in the Golan Heights.
The Kinneret's water levels have risen over a record 5.5 cm (2.16 inches) over the past 24 hours alone, with the current level at -212.8 meters.
Israelis woke up excited to see the snow, and immediately began filming. Some footage from the southern city of Be'er Sheva can be seen below.
Farther north the snow was coming in hard and piling up.
School closures
Schools have been closed in the following locations: 
Jerusalem area: Jerusalem, Ma'ale Adumim, Mevaseret Tzion, Beit El, Kiryat Yearim, Kiryat Arba, and Givat Ze'ev.
The Samaria (Shomron) Regional Council.
North: Tzfat (Safed), Ma'alot-Tarshisha, Mi'ilia, Nazareth Illit, Kfar Vradim, Tefen, the Golan Regional Council, the Merom HaGalilee Regional Council, Diliat Al-Carmel, Usifiya.
Negev: The Al-Kasum Regional Council, the Neve Tamar Regional Council, the Neve Midbar Regional Council, Hevron Hills, Mitzpe Ramon, Meitar, Bnei Shimon, and Arad. 
Hebrew University of Jerusalem and Ariel University have also closed their campuses due to the onslaught. 
Roads opening again
Tens of roads in Jerusalem and the north were closed Friday morning, but every road except for the 443 between Maccabim-Reut into Jerusalem has reopened as of 12:40 pm. 
Jerusalem: public transport limited
In Jerusalem, the Egged bus company is running a series of special "snow lines" along the capital's busiest streets, as follows: 
501 - from the Malha train station to the Central Bus Station (CBS)
502 - Malha train station to Kiryat Yovel, via the CBS
503 - Malha train station through the Givat HaMivtar (French Hill) light rail station 
504 - Givat Masua-Har Nof-CBS
505 - Gilo-CBS
506 - Hadassah Ein Kerem - Mount Herzl light rail station - CBS
507 - Mount Scopus (Har Hatzofim) - Eshkol Blvd. - CBS
508 - Har Nof-Givat Shaul-CBS
509 - Homat Shmuel-Derech Hevron 
510 - Malha mall - Yefe Nof light rail station - CBS
511 - Neve Yaakov - Pisgat Ze'ev - CBS
512 - Ramot-CBS
513 - Ramat Shlomo-Ramot
514 - Har Hotzvim-CBS
515 - Derech Hevron-East Talpiot
516 - Malha mall - CBS - City center
The Jerusalem light rail service has been halted as of Friday morning, Citipass announced, due to snow piling on the tracks. 
Egged has also stopped its bus service to Samaria on the following lines until further notice: 461, 462, 463, 464, 465, 466, 467, 468, 469; as well as the bus lines to Mod'iin - 181, 182, 183, 184. Bus lines from Beit El to Ofra have also been halted. 
Bus lines to and from Ariel were halted as well for a short period, but Ariel mayor Eli Shaviro has now announced (11:30 am) that public transport on Afikim buses will return to normal. 
​Emergency procedures
Magen David Adom (MDA) director Eli Bin has directed extra deployments of paramedics to take a series of emergency measures and to be on high alert to help possible stranded travelers. Dozens of MDA ambulances with 4x4 wheel drive have been placed at strategic intersections, where the snow piles up during winter storms; scores of volunteers are being dispatched in some 125 special jeeps equipped for the snow. 
Meanwhile, the Israel Electric Company (IEC) is transferring 50 generators to its logistic centers in remote areas most likely to see power outages from the onslaught. IEC teams have been dispatched in Jerusalem and the north ahead of potential emergencies, in order to fix any damage to the power grid due to the inclement weather. 
Looking ahead
Friday's temperatures: Jerusalem will reach a high of 3C (37.4F), with a low of 1C (33.8F) overnight; Tzfat (Safed) currently at 1C (33.8F), with 0C (32F) overnight. Tel Aviv's temperatures will range from 9C (48.2F)-6C (42.8F); Haifa, 7C (44.6F)-4C (39.2F); Tiberias, 9C (48.2F)-6C (42.8F); Katzrin, 3C (37.4F)-1C (33.8F); and Nazareth Illit, 5C (41F) -3C (37.4F).
Down south, the temperatures are slightly warmer: Ein Gedi will see highs of as much as 13C (55.4F), with lows overnight of 11C (51.8); Be'er Sheva, 7C (44.6F)-4C (39.2F); Ashdod, 11C (51.8)-8C (46.4F); Mitzpe Ramon, 4C (39.2F)-1C (33.8F); and Eilat, 14C (57.2F) - 7C (44.6F). 
The Tel Aviv and central Israel areas, the Ashdod area, and other areas not affected by snowfall are expected to see thunderstorms, strong winds, and plummeting temperatures throughout the day Friday.
Snow will continue to fall in the north, areas above 300m of elevation in the center, Jerusalem, and the Negev highlands. 
Israelis living in areas with lower elevation are advised to keep abreast of flash flood warnings, as high levels of rainfall will also be expected. 
Friday night, most of Israel will be blanketed in rain, accompanied by thunderstorms in some areas. The snow is expected to taper off, even in the highest mountains; temperatures are expected to drop near or well below freezing. 
Rains are expected in southern and central Israel Saturday, with flood warnings already in effect for communities near rivers in the Negev. 
Sunday will be partly cloudy nationwide with a rise in temperatures and a drop in humidity. 
credit: Yonatan Cupp
credit: Yonatan Cupp
credit: Shyra Gross