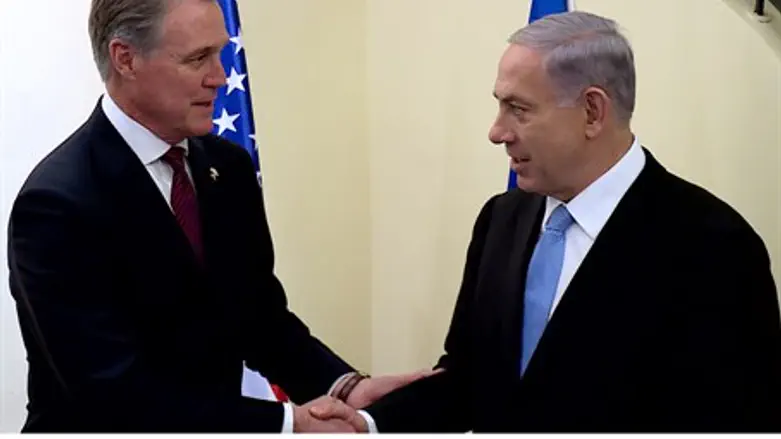 Prime Minister Binyamin Netanyahu meets with US Senator David Perdue
Kobi Gidon/GPO
At a meeting Wednesday with US Senator David Perdue, Prime Minister Binyamin Netanyahu stressed the importance of a strong front by the US and Israel against Islamic fanaticism – no matter what its source.
"Today the forces of militant Islam are on the march throughout the Middle East. Islamic State just barbarically massacred 21 Egyptian civilians in Libya," said Netanyahu. "Our hearts go out to the families and to the people of Egypt facing this horrible savagery. And Israel will continue to stand side-by-side with Egypt in the battle against terrorism, which threatens us all."
"While Islamic State butchers the innocent, the Islamic Republic of Iran is relentlessly pursuing nuclear weapons with the express purpose of destroying the State of Israel," the Prime Minister continued.
"The P5+1's latest proposal won't stop them. The Iranians of course know the details of that proposal and Israel does too. So when we say that the current proposal would lead to a bad deal, a dangerous deal, we know what we're talking about, Senator."
Perdue is a strong supporter of Israel.
Last week, he co-sponsored a Senate resolution encouraging Netanyahu to speak before both Houses of Congress next month, despite the objections to his speech raised by President Barack H. Obama and some Democratic lawmakers.
The resolution "warmly welcomes" Netanyahu to the Senate, calling the speech a "timely opportunity to reinforce the United States-Israel relationship."
The resolution proclaims the Senate's "commitment to stand with Israel during times of uncertainty," adding that there is "unequivocal and bipartisan support for the friendship between the people and governments of the United States and Israel" in the Senate and the House.