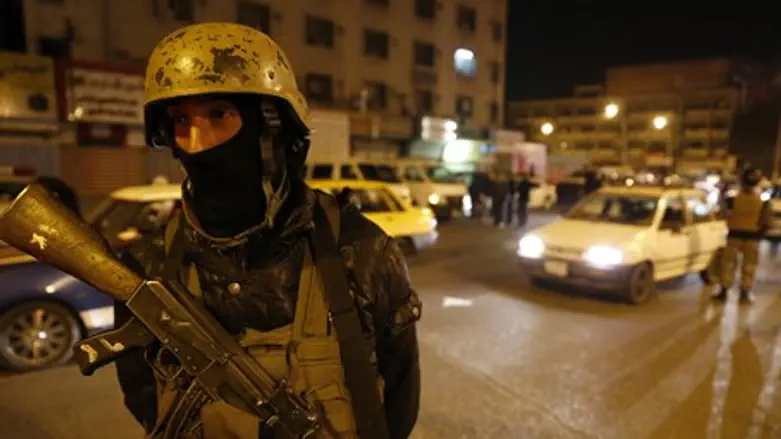 Iraqi security forces in Baghdad
Reuters
Rising anti-Israel sentiment and anti-Semitism has made supporting Israel a tough job for activists in places like Western Europe, particularly on university campuses where Islamist extremism and far-left sentiment are rife and students often face harassment and abuse for expressing pro-Israel views.
But have you ever tried being an Israel-advocate in Iraq?
Well, one brave man has - and even uploaded the proof from a bridge over Baghdad's Tigris (Dijla) River.
Understandably for someone living in a country torn between fanatical ISIS jihadists and Iranian-backed Shia Islamist militias, he has chosen to remain anonymous, but his Iraqi passport is unmistakable.
After delivering a message in Arabic, the anonymous advocate - who has even set up a pro-IDF Facebook page - then concluded in English:
"I'd like to send my greetings and love from Baghdad to the Israeli nation," he begins. "I want to say: I will always stand with Israel, with the nation and the IDF, and I will do my best to show the real Israel to people I know."
Remarkably, he then signs off in Hebrew: "My sincere greetings and love - am Yisrael chai [the nation of Israel lives - ed.]. Shalom."
Click below to watch the video:
Once home to hundreds of thousands of Jews - including a major community in Baghdad - since the ethnic-cleansing of Jews from Arab-majority countries in the early-to-mid twentieth century, Iraq's Jewish community has dwindled to single figures today, its rich Jewish heritage either lost or taken over by Muslims.
Expressions of support are rare in the Arab-dominated south, where Baghdad is located, and other parts of the country. However, in the Kurdish-dominated north support for Jews and the Jewish state is not uncommon.