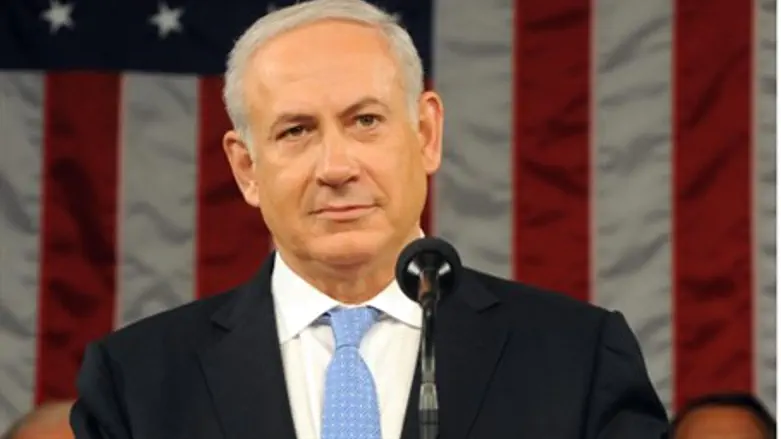 Binyamin Netanyahu at Congress
Avi Ohayon/GPO/Flash 90
While a CNN survey released Tuesday found 63% of Americans oppose the way Republican leaders invited Prime Minister Binyamin Netanyahu to address the Congress, another poll has found 43% of Americans want Netanyahu to make the speech anyway.
The survey, conducted between February 12 and 16 among 1,563 respondents by Paragon Insights and commissioned by the Israel Project, was published by Bloomberg View and provides important context to the CNN poll.
In the poll, 25% said they agreed more with the statement: "some people say Israeli Prime Minister Netanyahu is in the middle of an election at home, and it is inappropriate for the U.S. to host him for a speech only two weeks before the election is being held. They say this is a Republican attempt to make Netanyahu look stronger before his election."
However, 43% agreed more with: "other people say Iran is getting closer to building a nuclear weapon. As one of the world's most knowledgeable leaders on the Middle East and the Iranian nuclear program, Israeli Prime Minister Netanyahu should address Congress before the March 31st deadline for a political framework with Iran."
Another finding was that while a majority opposed Republican House Speaker John Boehner's invite without letting the White House know so as to avoid "interference," more respondents also disapprove of how US President Barack Obama's administration has reacted to the upcoming March 3 speech.
Obama and US Secretary of State John Kerry have said they won't meet Netanyahu claiming their doing so is due to the proximity to the Israeli election, and US Vice President Joe Biden has likewise boycotted the speech.
But 47% as opposed to 32% of respondents in the survey were against the reaction of the Obama administration. Also, only 22% said Netanyahu should be barred from addressing Congress given the closeness to elections and potential political gain he would receive.
The backlash against the reception of Netanyahu was not limited to the Obama administration either, with over a third saying they would be less likely to re-elect their congressman if they boycotted the address, although 27% said such a move would make them more likely to support the congressman.
"The numbers are stark," said Omri Ceren, press and strategy managing director for the Israel Project. "Even Americans who may be ambivalent about how the Netanyahu speech came together...would be less likely to vote for a congressperson who boycotted."