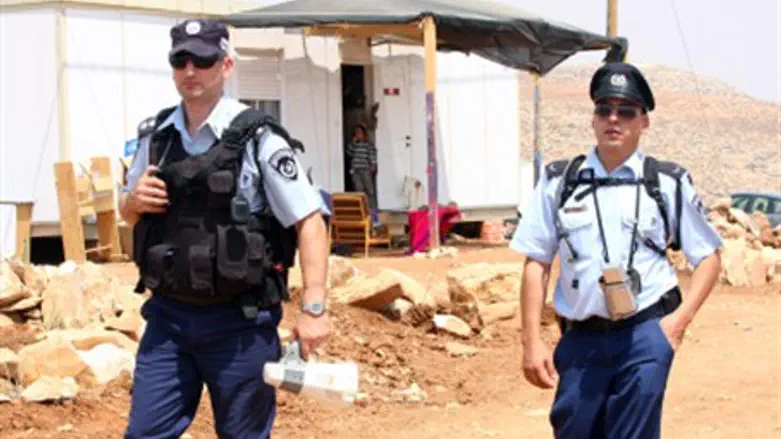 Police at a demolition (archive)
Israel news photo: Flash 90
The Israel Police and Civil Administration destroyed four homes in the community of Geulat Tzion near Shiloh Tuesday morning, along with other homes in the Shiloh area.
Other hit sites included Havat Yishuv Ha'daat, where they destroyed two buildings; police and security forces then moved on to Adei Ad, only to be met with dozens of community residents who blocked the lone road into the community to prevent the destruction.
Israel Police claimed that the residents broke the windows of the bulldozers and other equipment for the destruction. One person was arrested on charges of assaulting a Border Police officer. 
"We act with zero tolerance for riots and rioters who wish to harm the security forces and their activities," the Israel Police said in a statement.
The Civil Administration said that "this morning, security forces destroyed four illegal structures built without permission on state land at the Geulat Tzion outpost. The buildings were destroyed after completion of the process of enforcement and demolition orders. We note that the two buildings were rebuilt on the ruins of illegal buildings that were destroyed previously."
In 2013, security forces destroyed four homes in Geulat Tzion, but a donation and rebuilding campaign saw the community rebuilt.