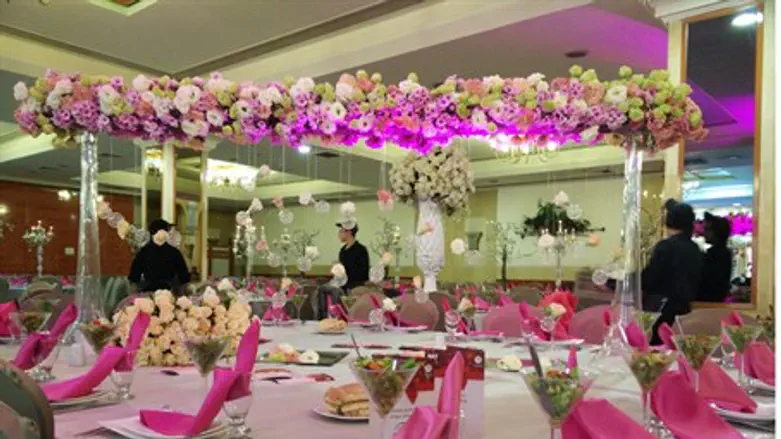 Bat Mitzvah celebration
Kobi Amsalem
Colel Chabad hosted its fourth annual Bat Mitzvah celebration for orphans last week at the Gutnick Hall in Jerusalem. 36 girls and their families participated in the event. 
The organization, founded in 1788 by the first Lubavitcher Rebbe, Rabbi Schneur Zalman of Liadi, is the oldest continuously-running social welfare organization in Israel. 
Since its founding, Colel Chabad has increased its programs to include year round assistance to widows and orphans, providing food, clothing, as well as educational and social services for close to 300 widows and over 600 orphans annually. 
This year's Bat Mitzvah celebration featured a fully catered meal for friends and family, entertainment, music and dancing, and professional portraits and personalized gifts for each of the girls. 
"Family milestones can be much more stressful and difficult, both financially and emotionally, without a parent," said Rabbi Amram Blau, Director of the Chesed Menachem Mendel program. 
"It's heartwarming to see the joy on the faces of these young women and their families in reaching this momentous occasion." 
Almira, a mother of six who lost her husband ten years ago, expressed overwhelming gratitude as she recalled how Colel Chabad's Bar and Bat Mitzvah programs had helped her family. 
"When Colel Chabad called me before my son's bar mitzvah last year, I was overcome with emotion. I couldn't even imagine how I was going to plan for the ceremony. And now with my daughter's bat mitzvah, we are overwhelmed with thanks and in awe that there are people who are so generous and thoughtful to children who lost their fathers."
"Colel Chabad looks beyond the instant solutions to those in need and works to find ways that will have a lasting impact upon families," Rabbi Menachem Traxler, the Director of Volunteering for Colel Chabad, explained.
"The Bat Mitzvah program helps these girls and their families by giving strength at what could be a difficult time and provides them with memories they will always keep - of a sense of community, joy and happiness."
"I never thought that I would be able to smile so much on this day," Almira noted.  "But the happiness of thirty-six 12-year-old girls who are able to laugh and dance together despite all of our personal pain is truly the best gift I could have ever asked for."
Colel Chabad's annual Bar Mitzvah celebration for over 100 orphan boys is scheduled for just before Passover.