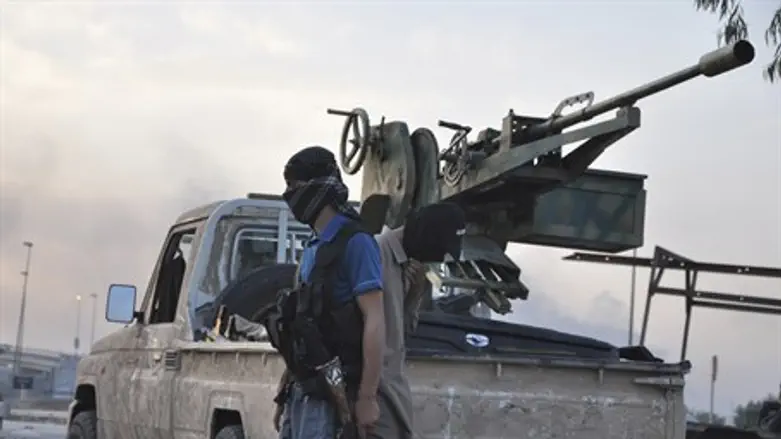 ISIS terrorist in Mosul, Iraq (file)
Reuters
A British jihadist believed to have faked his own death while fighting in Syria in order to return home undetected was jailed for 12 years by a London court on Friday.
Imran Khawaja, 27, an amateur bodybuilder from London who used to work in an immigrant detention center, admitted preparing for acts of terrorism, attending a training camp and possessing firearms.
Khawaja spent the first half of 2014 training alongside jihadists in Syria's civil war and at one point posted video footage of himself holding severed human heads on social media.
Judge Jeremy Baker at Woolwich Crown Court handed down a 17-year extended sentence, comprising a 12-year custodial term and five years during which he has to report to police.
He will have to serve a minimum of eight years in prison.
Baker called Khawaja a "willing and enthusiastic" participant in jihadism.  
"Your interest was sufficiently profound for you to travel to Syria to train for jihad.
"I'm also satisfied, by the time you decided to return to the UK, you had completed your terrorist training," the judge said.
Khawaja left from Heathrow Airport in January last year, travelling to a training camp in Syria.
Once there, he joined Rayat Al-Tawheed (Banner of God) - a group which became aligned with the Islamic State (ISIS) terrorist group, according to British police.  
He also appeared in one of the group's promotional videos, "Five Star Jihad", which portrays daily life at the training camp.
According to London's Metropolitan Police, "Khawaja is also seen in a disturbing video posted on social media which includes a bag of severed heads."
"The description posted with the video is 'British ISIS fighter Abu Daigham al-Britani with government soldier's head'."
The terrorist group falsely announced on social media that he was later killed on the battlefield. Police believe the reports were part of a plan to throw authorities off his trail.
"In May 2014, the group put out a message on social media, designed to deliberately mislead authorities, claiming that Abu Daigham al-Britani had been killed alongside an image of two masked men holding a flag associated with Islamic State," said Scotland Yard.
In reality, he was making his way to Bulgaria, where he had asked his cousin Tahir Bhatti, 44, to pick him up.  
Bhatti was sentenced to 21 months in prison.
Details of the case were not made public until his cousin's pleas were heard in court.
The pair were arrested on June 3 last year as they reached the port of Dover in southern England.  
"He was a senior figure in Rayat Al-Tawheed, a group aligned to Islamic State that celebrated its terrorist acts through social media back to the UK," Richard Walton, head of the Metropolitan Police's Counter Terrorism Command, said last month.
"This is a man who has chosen the path of terrorism. We don't know why he came back. We don't know what he was planning."
AFP contributed to this report.