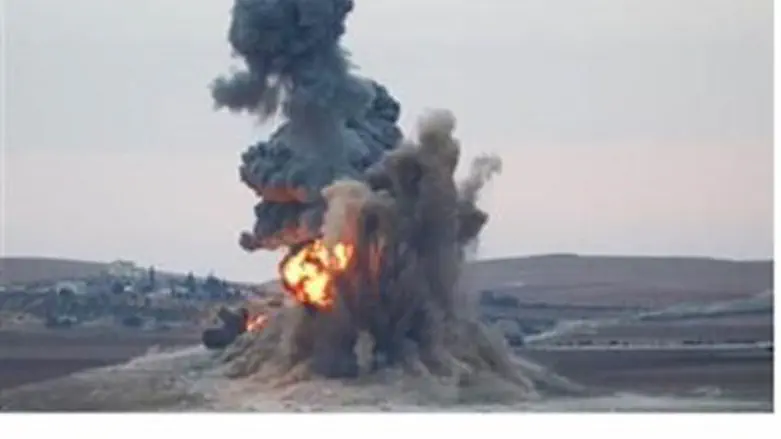 US airstrikes on ISIS in Syria (illustration)
Reuters
Jordan said its warplanes launched dozens of new strikes Thursday against the Islamic State group, after vowing a harsh response to the burning alive of a pilot captured in Syria.
The news came as scores of people were killed when rebels unleashed rocket fire on Damascus and President Bashar al-Assad's forces retaliated.
Jordan's military said "dozens of jet fighters" struck ISIS targets on Thursday morning, "hitting training camps of the terrorist groups as well as weapons and ammunition warehouses".
It did not say where the targets were located - ISIS holds swathes of Syria and Iraq - but said they were destroyed and the aircraft returned home safely.
American F-16 and F-22 jets provided security to the Jordanian fighter planes, with additional support from refueling tankers and surveillance aircraft, US officials said.
Washington has also deployed aircraft and troops to northern Iraq to boost capabilities to rescue downed pilots fighting with the international coalition that is battling ISIS, a US defense official told AFP.
ISIS has released a highly choreographed video of the horrifying murder of pilot Maaz al-Kassasbeh, whose death has sparked grief and deep anger in Jordan.
Jordan's military has pledged to "destroy this terrorist group and kill the evil in its own place", saying it would punish ISIS for the "heinous act" of burning him alive.
King Abdullah II visited the airman's family, who have urged the government to "destroy" the jihadists, to pay his condolences.
Jordan has conducted regular raids against ISIS across the border in Syria as part of a US-led campaign against the Sunni extremist group.
More than 200,000 people have died since anti-government protests erupted in Syria in early 2011, escalating into a multi-sided civil war that brought jihadists streaming into the country.
At least 66 people, including 12 children, were killed by regime air strikes and shelling on rebel areas around Damascus Thursday, according to the Syrian Observatory for Human Rights.
The assault on the Eastern Ghouta region came after rebels fired more than 100 rockets at the city, killing 10 people including a child, the
Britain-based group said.