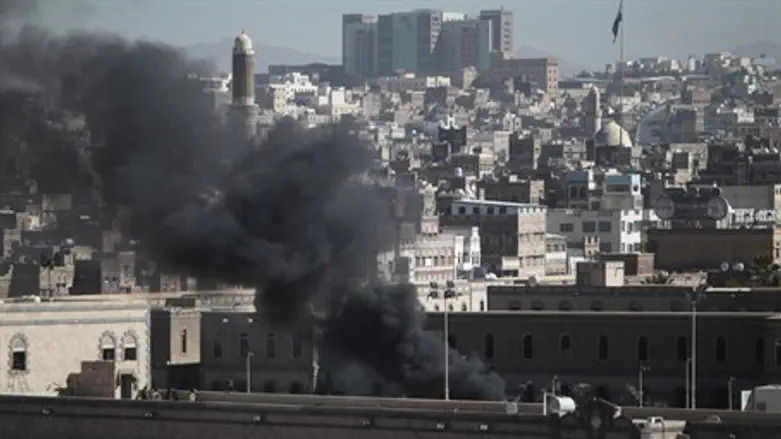 Smoke rises from Yemen's Defense Ministry after attack (file)
Reuters
After Al-Qaeda in the Arabian Peninsula (AQAP) admitted on Thursday that a US drone strike in Yemen took out a key leader of the terror group, Harith al-Nadhari, it accused America of cooperating with the Iranian backed Shi'ite Houthi militia that has been slowly taking over Yemen.
Al-Nadhari had threatened more attacks on France after last month's Charlie Hebdo massacre just before his organization claimed the attack, and was considered to be one of AQAP's most senior religious scholars tasked with promoting Sharia Islamic law, reports AFP.
Late last month US President Barack Obama said that despite the political crisis in Yemen after the government resigned as the Houthis besieged the presidential palace in Sana'a, the US would continue its strikes against Al-Qaeda in the country, and since then at least 11 Al-Qaeda terrorists have reportedly been taken out.
According to the New America Foundation, the US has carried out more than 110 strikes in Yemen since 2009, mostly using drones. In September 2011, a drone strike killed US-Yemeni cleric Anwar al-Awlaqi, the AQAP leader accused of instigating a string of attacks against the United States.
That attack followed "statements by US officials on further intelligence cooperation with the Houthis on fighting terrorism," AQAP claimed on Thursday.
As noted, the Houthis who are firmly backed by Iran have been seizing power in Yemen, conquering Sana'a last September and clashing with the Sunni AQAP regularly since then.
"Houthis have become faithful US partners in preserving its interests and implementing its plans in the Arabian Peninsula," said AQAP, vowing to continue fighting "Americans, crusaders and Houthis."
The Pentagon has admitted that US officials were holding discussions with representatives of the militia, but said they were not sharing intelligence on Al-Qaeda.
The Wall Street Journal reported this month that US officials were in touch with Houthi terrorists largely through intermediaries.
The Houthi militia "Ansar Allah" has already taken over large areas in northern Yemen, in the capital Sana'a and on the port city of Hodeidah, and is now working under Iran's direction to take over the strategic strait of Bab el-Mandeb, controlling access to the Red Sea and possibly putting Israel's port of Eilat under its control.
Iran held a massive naval drill late last December in which it sent war ships near the Yemenite coast, in a clear message signalling the Islamic regime's interests.
However the Houthis have been meeting resistance not only from Al-Qaeda but also from Sunni tribesmen since overrunning Sana'a and towns farther south.
AQAP was formed in 2009 after a merger between terrorists in Yemen and Saudi Arabia. It took advantage of a 2011 uprising that forced veteran president Ali Abdullah Saleh from power to seize large swathes of the south and east.
The army recaptured several major towns in 2012 but has struggled to reassert control in rural areas despite recruiting militia allies among local
tribes.
Also on Thursday, four policemen were killed by gunmen in the southern city of Aden, with security sources blaming separatists wanting to reform the former socialist state of Southern Yemen for the attack, in which they said the assailants also fired shells.