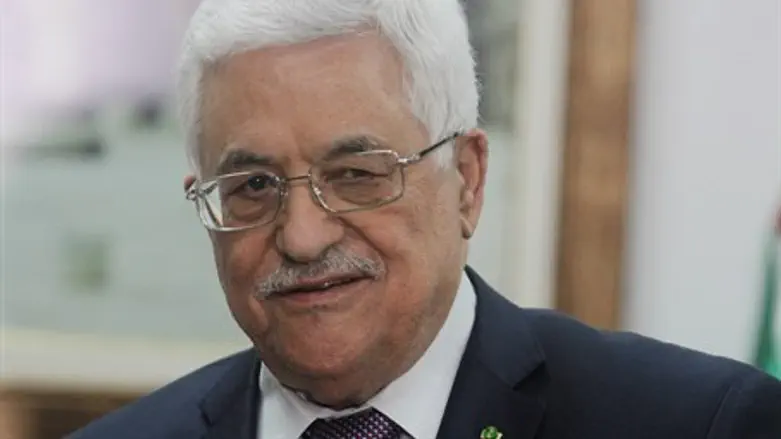 Mahmoud Abbas
Flash 90
Palestinian Authority (PA) Chairman Mahmoud Abbas is the head of the Palestine Liberation Organization (PLO) and Fatah Al-Aqsa Martyrs' Brigade terrorist organizations - but apparently that isn't going to stop him being allowed to visit a senior Fatah member receiving treatment in an Israeli hospital.
Senior Fatah member Zakaria Alala is currently hospitalized in Petah Tikva's Beilinson Hospital, where he is being treated for kidney failure and other health issues, apparently at the expense of Israeli taxpayers.
Health system sources revealed to Channel 2 that the hospital is preparing for the possibility that Abbas will visit Alala in the very near future; the hospital refused to comment on the issue when queried.
As shocking as the prospect of Abbas visiting an Israeli hospital with total impugnity is, it in fact isn't the first time he has benefited from Israeli medical services.
Just last June, a mere two months after Abbas torpedoed US-initiated peace talks by forming a unity deal with the Hamas terrorist organization that has the genocide of all Jews written into its charter, his wife Amina was admitted to an Israeli hospital.
Amina was brought into Israel with her identity concealed and treated at the private Assuta Hospital in Tel Aviv's Ramat Hahayal, where she underwent a complex surgery requiring professional treatment that doesn't exist under Abbas's PA.
Her hospital room was given heavy security by Israel.
Abbas is not the only hostile Palestinian Arab leader to enjoy medical services for those near him on the tab of Israeli taxpayers - the leader of his unity partner Hamas, Ismail Haniyeh, has had numerous relatives treated in Israel even as he actively works to destroy the Jewish state.
Haniyeh's daughter was treated in Tel Aviv's Ichilov Hospital last October, less than two months after Hamas's latest terror war on Israel, as was his mother-in-law last June and his granddaughter in November 2013.
After Haniyeh praised the murder of a three-month-old girl in Jerusalem by an Arab terrorist later in October, Foreign Minister Avigdor Liberman (Yisrael Beytenu) hinted Haniyeh's daughter would not be given medical treatment in Israel again.
However, just two weeks after that, it was confirmed that senior Hamas leader Moussa Abu Marzouk's 60-year-old sister was allowed into Israel for cancer treatment.