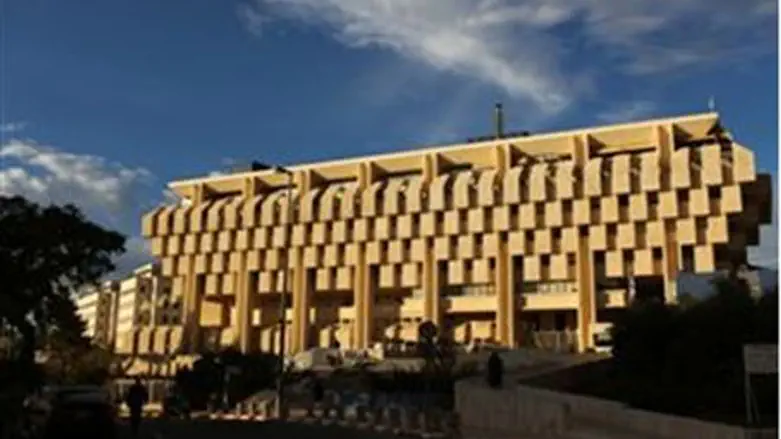 Bank of Israel
Israel news photo: Flash 90
Israel is in the budgetary hole for as much as NIS 18 billion (over $4 billion) – and the only way out, say the Bank of Israel, is to raise taxes on Israelis. If the country wants to maintain its budget targets and not borrow too heavily, Israel will have no choice but to raise taxes on those who pay.
Through 2014, the government managed to maintain a deficit of 2.8%, which enabled Israel to maintain good credit and finance government and defense operations on the credit markets. With Israel forced to spend billions of shekels to defend itself during Operation Protective Edge over the summer, the government slashed budgets of all ministries – except the Defense Ministry – to pay for the war.
However, the government decided to restore some of that spending in the 2015 budget – and as a result, the deficit spending limit was raised to 3.5% of spending, despite the Bank of Israel's vehement opposition. With social issues a centerpiece of the current campaign, it's likely that the higher level of debt will be maintained – meaning that Israel is likely to pay more interest on its loans, the Bank said.
In addition, the additional deficit spending will prevent the country from lowering its debt-to-GDP, currently at 67%, to the 61% the government has committed to by 2020. The only way to do that, the Bank said, was to impose increased taxes over the coming yeas to raise the NIS 8-14 billion that the government will need to satisfy all spending demands.
Another solution would be for tax authorities to track down and bill the many Israelis who fail to pay their taxes. According to estimates, as much as a quarter of the Israeli economy is "underground," with many people failing to report their income properly – or at all.
In that latter category are residents of the northern Arab town of Kafr Kana, where tax authorities have been reluctant to enter "because of the sensitive security situation," the Tax Authority said in a statement. Backed by armed police, authorities this week entered the village "for the first time in a long period," and seized vehicles and property owed by residents who have for years failed to pay taxes. Authorities managed to collect NIS 1.4 million in that operation, a small part of the total owed by residents and businesses in the town.