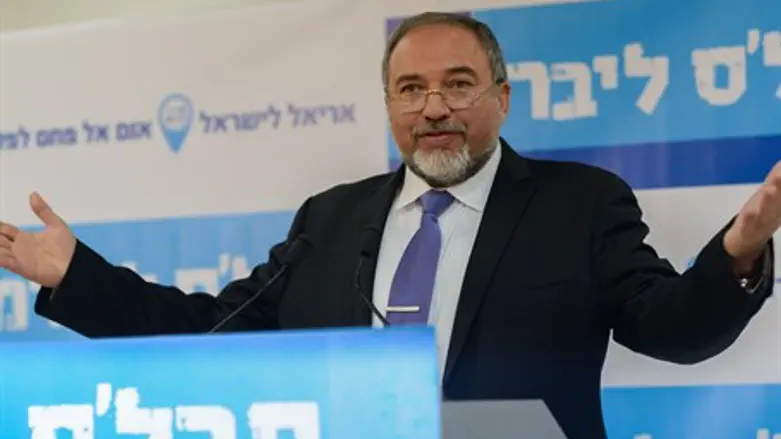 Avigdor Liberman
Ben Kelmer/Flash 90
Foreign Minister Avigdor Liberman on Wednesday praised Jordan's King Abdullah for executing two terrorists after the Islamist ISIS terror group executed a Jordanian pilot that it was holding captive.
Abdullah, said Liberman, "deserves praise for his quick and decisive action against terror, executing already this morning an ISIS terrorist and an al-Qaeda operative. I understand that more terrorists will soon be executed by the Kingdom," Liberman said.
The terrorists executed by Jordan included would-be Iraqi female suicide bomber Sajida al-Rishawi and Iraqi Al-Qaeda member Ziad al-Karboli. ISIS had demanded the release of al-Rishawi in lieu of a $10 million ransom in exchange for the life of Japanese reporter Kenji Goto.
The Japanese hostage was executed four days ago, after talks between Jordan and ISIS broke down, and, as a "punishment" to Jordan, ISIS on Tuesday executed Maaz al-Kassasbeh, the Jordanian pilot it has been holding for over a year, after he was captured when his plane was shot down by ISIS terrorists.
According to Jordanian state TV, the 26-year-old pilot was actually killed exactly a month ago, on January 3. In response, Jordan executed al-Rishawi and al-Karboli early Wednesday. According to a spokesperson for Abdullah, three more ISIS terrorists will be executed in the coming days.
Just a week before that another Japanese captive, Haruna Yukawa, was likewise beheaded by ISIS. Goto had entered Syria as part of a humanitarian effort to document the situation of residents, and also to try and locate the captive Yukawa and free him.
Liberman said that he would urge other world leaders to emulate Abdullah's action and execute ISIS terrorists they were holding. "Terror cannot be beaten with words and declarations, but only with tough action." Terrorists are not to be negotiated with or debated, Liberman added - "they are to be destroyed and uprooted."
Al-Rishawi in November 2005 participated in a terror campaign that killed at least 57 people in Jordan. She was sentenced to death by hanging by a Jordanian military court on September 21, 2006.. An appeal against the sentence was dismissed in 2007, but she filed a second appeal in 2010. That case is still ongoing, sources in Jordan said.
Analysts scrambled to figure out who al-Rishawi was and what made her unique enough to ISIS that the group would demand her release over that of many other Islamist terrorists held in Jordan and elsewhere. According to analysts interviewed by CNN, al-Rishawi is the sister of a top deputy of al-Qaeda Jordan leader Abu Musab al-Zarqawi, who was killed in a US strike in 2006. That "right-hand man," Lt. Col. James Reese, a former U.S. Delta Force commander told CNN, might have been ISIS leader Abu Bakr al-Baghdadi himself.
"There's a link back to this woman," Reese said of the Islamic State's demands. "This is just another way to help them (ISIS) bring these people back and help with their propaganda," he added.