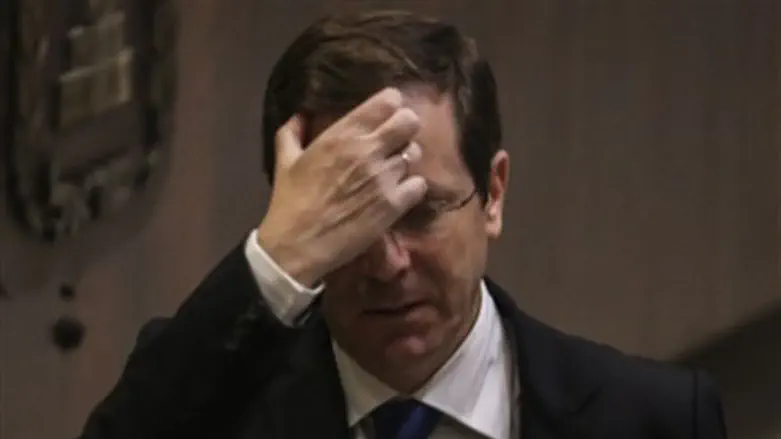 Yitzhak Herzog
Hadas Parush/Flash 90
Israeli politicians have been filling the airwaves with hyperbole as the country ratchets up for March 17 elections, but one particularly ill-chosen boast using a scriptural quote by Labor head Yitzhak Herzog has left pundits scratching their heads, wondering if he realizes how oxymoronic the statement was.
The statement in question by Herzog, who is the grandson of former Ashkenazic Chief Rabbi Yitzchak Herzog z''tl, was made in an interview with Channel 2, which itself noted the whopper of a faux pas on Tuesday.
"The firstborn daughter of David Ben-Gurion - Geula Ben-Eliezer - taught me in first grade the line: 'let not him that girds his armor boast as he that removes it,'" Herzog said, quoting the Book of Kings 1, Chapter 20, Verse 11.
He then went on to proudly say in the same breath: "I intend to defeat Netanyahu, I will form the next government, and it will be the best government for Israel."
There's just one problem: the scriptural line Herzog used as a preface for his boast means to do precisely the opposite of what he did, leading the news station to question whether he understood the line he learned in first grade.
The meaning of the quote is that a person shouldn't brag and gloat over their intentions before proving that they are able to materialize them, a message particularly pertinent for Herzog, who has been steadily lagging behind Likud by several mandates in recent polls after previously enjoying a slim lead or tie.
It is also quite likely that Herzog was unaware of (or misunderstood) the context within which the saying he quoted was made.
In making the statement, Herzog was in fact quoting the Biblical King Ahav (Ahab), who made the declaration in response to a messenger of Ben-Hadad, the King of Aram (Assyria) who had come to besiege Samaria.
Shortly after Ahav's warning, he and his forces "slew the Arameans with a great slaughter" as related in the text, in a realization of G-d's promise of victory.
However, Ahav quickly undermined his divine aid, falling out of favor by sparing the defeated Ben-Hadad and signing a covenant with him, that incidentally saw streets in Damascus come under Jewish control. Later, Ahav's misplaced mercy is laid bare when Ben-Hadad repays the gesture by returning and defeating the Kingdom of Israel, amid great slaughter.
In this context, it is worth pointing out that Herzog has made clear he intends to sign a peace treaty of his own with the Palestinian Authority (PA), dividing Jerusalem and making massive land withdrawals from the Biblical heartland of Judea and Samaria.