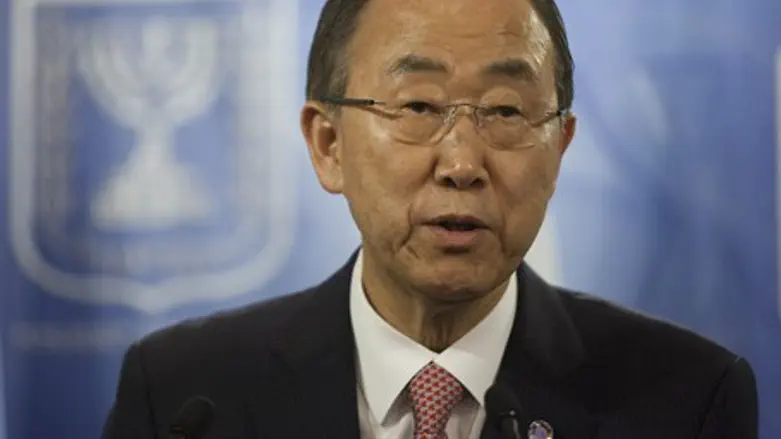 Ban Ki-Moon
Flash 90
UN Secretary-General Ban Ki-moon on Tuesday condemned the apparent burning alive of a Jordanian pilot by Islamic State (ISIS) terrorists, calling it an "appalling act."
Ban labeled ISIS "a terrorist organization with no regard for human life" and urged world governments to redouble their efforts to "combat the scourge of terrorism and extremism," his spokesman Stephane Dujarric said, according to the AFP news agency.
First Lieutenant Maaz al-Kassasbeh was captured in December when his F-16 jet crashed over northern Syria.
"The secretary-general's thoughts are with Mr. al-Kassasbeh's family and loved ones," Ban's spokesman said.
"He shares their sorrow and stands today in solidarity with the government and people of Jordan in denouncing this appalling act."
A slickly produced 22-minute video surfaced online earlier showing a man who appeared to be the pilot engulfed in flames inside a metal cage.
Jordanian state television said that Kassasbeh was killed on January 3.
"The secretary-general urges all governments to strengthen their efforts to combat the scourge of terrorism and extremism within the bounds of their human rights obligations," the statement added.
The 15 members of the UN Security Council meanwhile were discussing a possible declaration condemning the Jordanian pilot's murder.
Jordan is a non-permanent member of the council.
The Sunni Muslim terrorist group had threatened to kill Kassasbeh unless Jordan handed over a jailed Iraqi female suicide bomber.
The release of the video of the pilot's murder came days after ISIS beheaded a second Japanese hostage within a week.
ISIS had vowed to kill the second Japanese man, Kenji Goto, and Kassasbeh by sunset on January 29 unless Amman handed over Iraqi jihadist and would-be suicide bomber Sajida al-Rishawi, who is on death row in Jordan.
Jordan demanded proof that Kassasbeh was still alive before releasing the terrorist. In the end it never got word back before the deadline, and on Saturday ISIS released a video showing Goto being beheaded.
In response to the brutal killing, Jordan said it would execute five terrorist prisoners - including al-Rishawi - in revenge.