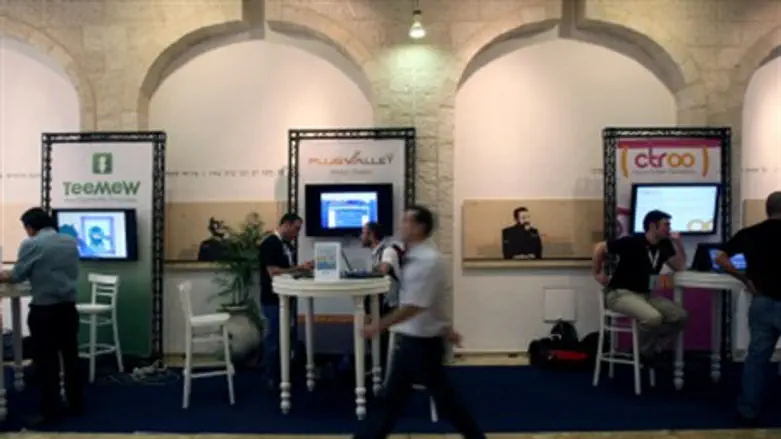 Hi tech exhibit (illustration)
Flash 90
Three Israeli startups raised a total of $75 million according to their announcements on Wednesday, reports Haaretz.
ClickTale, whose software enables website owners to track user behavior on their sites, said investors led by the U.S. private equity firm KKR had pledged $35 million in investments.
TheMarker said that Addallom, a U.S.-Israeli cyber-security startup, is close to raising at least $25 million, while a third company, the U.S.-Israeli startup Kaminario, said on Wednesday that it has raised another $15 million, just a month after securing $53 million from investors in a funding round.
A wave of fundraising last week saw ten companies raise a combined $140 million.
Acquisitions by Amazon, Microsoft, Dropbox and others have enriched hi-tech Israeli entrepreneurs less than four weeks into 2015, reported financial websiteGlobes on Monday.
Since the start of the year, six acquisitions of Israeli start-up companies by US companies have totaled $862 million. This compares to a total of $4.3 billion in acquisitions of Israeli companies in all of 2014.
In the biggest of the deals this month, Amazon Inc. acquired Yokne'am-based company Annapurna Labs for a reported $350-370 million. Avigdor Willenz, who founded the company in 2011, received an estimated $76.9-81.3 million.
This is Willenz's sold another start-up, Galileo, to Marvel in 2001, for $2.7 billion.
Other big deals, according to Globes, include text analysis company Equivio, which was sold to Microsoft Corp. for $50-100 million, in a major windfall for the three men who founded the company in 2004.