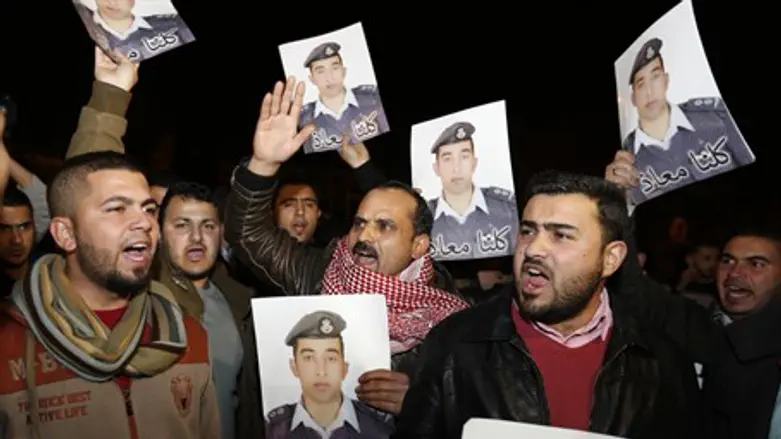 Jordanian protesters call for prisoner swap with ISIS to free pilot Maaz al-Kassasbeh
Reuters
Two managers of a Jordanian website have been arrested for spreading rumors that an Iraqi terrorist had been freed in exchange for a Japanese hostage, a judicial source said Thursday.
The owner of the Saraya News site, Hashim al-Khalidi, and editor-in-chief Seif Obeidat could face up to 15 years in prison if convicted.
The Islamic State terror group is demanding the release of Iraqi would-be suicide bomber Sajida al-Rishawi, who is on death row in Jordan, in return for Japanese journalist Kenji Goto.
The kingdom is under heavy pressure at home and from Japan to save a Jordanian pilot held by ISIS terrorists, Maaz al-Kassasbeh, as well as Goto.
On Wednesday Saraya News reported that Rishawi had been freed and had arrived in Iraq to be handed over to ISIS in exchange for Goto, a claim which authorities quickly denied.
"By order of the prosecutor general of the State Security Court, Hashim al-Khalidi and Seif Obeidat were arrested after the publication of rumors of the release of an Iraqi suicide bomber as part of a deal with ISIS," the source said.
They are accused of "having used means of communication to propagate the ideas of a terrorist organization and actions that could encourage violence against Jordanians and acts of revenge," the source added.
Jordan, which is accused by rights groups of restricting freedom of speech and of the press, has ordered the closure of the site.
In a new audio recording released on Thursday, a voice identifying itself as Goto says his captors will kill Kassasbeh if Rishawi is not handed over by sunset.
Amman has offered to free the Iraqi woman, who was convicted for her part in triple-hotel bombings in the Jordanian capital in 2005 that killed 60 people, if ISIS releases their pilot alive and unharmed.
Kassasbeh was captured on December 24 after his F-16 jet crashed while on a mission against ISIS over northern Syria.
AFP contributed to this report.