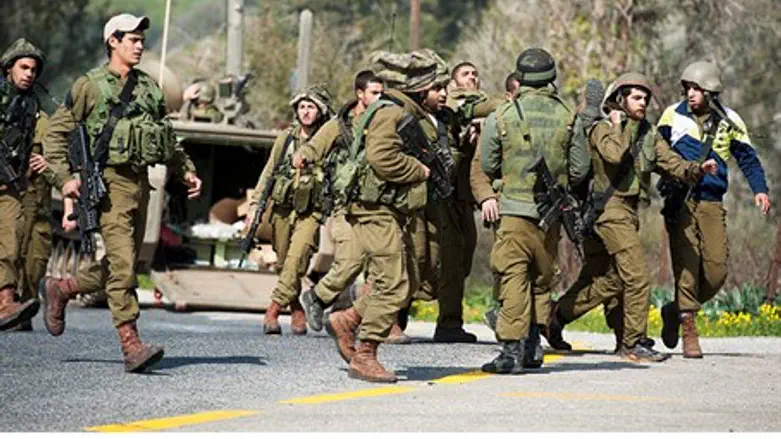 Israeli soldiers on lebanon border
Flash 90
Spain on Wednesday said Israeli fire had killed a Spanish UN peacekeeper serving in south Lebanon and called on the United Nations to fully investigate the violence.
The Security Council condemned the death of the Spanish corporal who died from wounds sustained during an exchange of fire between Israeli forces and Hezbollah fighters on the border.
"It is clear that this was because of the escalation of the violence and it came from the Israeli side," Spanish Ambassador Roman Oyarzun told reporters, according to the AFP news agency.
The Spanish envoy said he had asked for a full investigation during an emergency meeting of the council called by France to discuss ways to defuse tensions between Israel and Lebanon.
The violence raised fears of another all-out conflict between the two countries, who fought a month-long war in 2006, in a region already wracked by fighting in Syria and Iraq.
Secretary General Ban Ki-moon called for "maximum calm and restraint," urging all sides to "act responsibly to prevent any escalation in an already tense regional environment," a UN statement said.
Tension in the area has been building, especially after an Israeli air strike on the Syrian sector of the Golan Heights killed six Hezbollah fighters and an Iranian general on January 18.
"Our objective is to engage toward de-escalation and to prevent further escalation of the situation," French Ambassador Francois Delattre was quoted by AFP as having told reporters.
France presented a draft statement to council members but after meeting for over an hour, the council issued a terse condemnation of the peacekeeper's death and made no mention of de-escalation efforts.
Discussions on the council statement were continuing, the report indicated.
The clashes began when Hezbollah fired an anti-tank missile at a military convoy along the border area, prompting Israel to respond with air and ground strikes.
The 36-year-old Spanish corporal serving in the UN interim force UNIFIL in southern Lebanon was killed in the exchange of fire.
The 10,000-strong UNIFIL mission said it had observed six rockets fired towards Israel from southern Lebanon and that Israeli forces "returned artillery fire in the same general area."
Senior peacekeeping official Edmond Mulet told council members that the attacks were a "serious violation" of ceasefire agreements and that UNIFIL had launched an investigation, according to a diplomat present at the council meeting.
Israel's ambassador to the United Nations, Ron Prosor, warned in a letter that Israel was ready to take all necessary measures to defend itself and demanded that the council condemn Hezbollah.
"Israel will not stand by as Hezbollah targets Israelis," wrote Prosor in a letter to the council also sent to Secretary General Ban Ki-moon.
Earlier on Wednesday, Defense Minister Moshe Ya'alon made clear that Israel will have "zero tolerance" for terror attacks against it.
"Iran and Hezbollah are trying, and will continue to try, to harm Israel in any way, from the Golan Heights and certainly from Lebanon, through uninhibited terrorist networks who plan to act against military and civilian targets," Ya'alon said.
"Only a few days ago we hit a senior official of a terrorist organization like this, whose purpose was to make in the coming weeks, and In the future, serious attacks against Israel through the Golan Heights and surrounding area," he added, referencing last week's IAF airstrike in Syria, which killed key Hezbollah commander Jihad Mughniyeh.
Ya'alon stressed, "We will continue to pursue, anytime and anywhere, the terrorists and their dispatchers, and levy our hand against all those who wish to disrupt the lives of Israeli citizens."
"The State of Israel has zero tolerance for terrorist organizations, and we will act forcefully and decisively against anyone that challenges its and try to harm its citizens," he threatened. "We will not allow terrorist groups and rogue states to harm or attempt to harm the security of Israeli citizens."