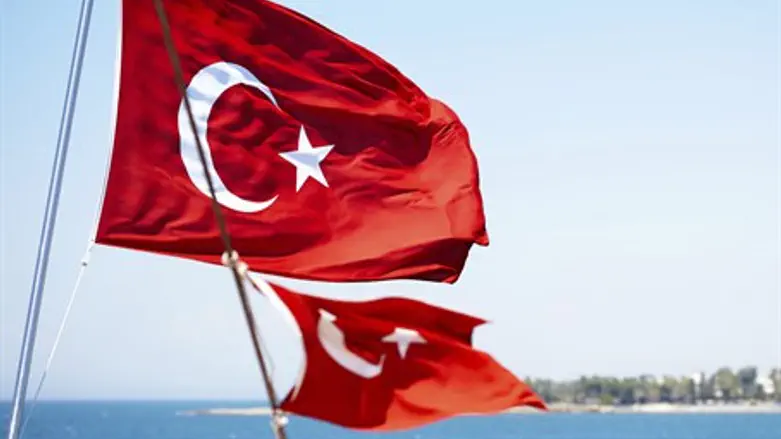 Turkish flag. Illustration
Thinkstock
Turkey will host a ceremony to commemorate Holocaust victims in its capital for the first time in a sign of solidarity with the Jewish community, an official said.
"The ceremony will take place in Ankara for the first time, with the presence of parliament speaker," the official told AFP.
Holocaust International Remembrance Day was first marked in Turkey in 2011 and since then ceremonies had been held in Istanbul
But this year, the government has shifted the venue to Ankara and has made its presence visible at international platforms.
Foreign Minister Mevlut Cavusoglu travelled to Auschwitz to participate in an international ceremony, and the speaker of parliament Cemil Cicek attended a Holocaust forum in the Czech capital Prague.
"It is a duty of humanity to remember the Holocaust, one of the biggest crimes in history, and to teach future generations about it so as to ensure this kind of offense will never be experienced again," the prime minister's office said in a statement.
"Our country is taking all necessary steps to prevent such crimes from recurring."
The ceremony will be at the private Bilkent University and will also be attended by members of the Jewish community.
Deterorating Turkish-Israel relations
The gesture does not offset deteriorating relations between Ankara and Jerusalem, however - nor an alarming rise of anti-Semitism in the country. 
Turkish President Recep Tayyip Erdogan has often blasted Israel during attacks on Gaza, declaring in July that the Jewish state had "surpassed Hitler in barbarism." 
Last month, American officials expressed deep concern over the rising levels of anti-Semitism in Turkey. A report late last year revealed that young Turkish Jews were leaving the country in droves as a result of the anti-Semitism.
Turkey has seen a rise in anti-Semitic hate crimes since the rise of Erdogan's Islamist AKP party. Although violent attacks are still relatively rare, anti-Jewish incitement has become commonplace.
Most recently, the governor of the northwestern province of Edirne was accused of inciting hatred towards the country's Jewish community, after suggesting a synagogue be turned into a museum as a reprisal for Israel's policies over the Al-Aqsa mosque in Jerusalem.