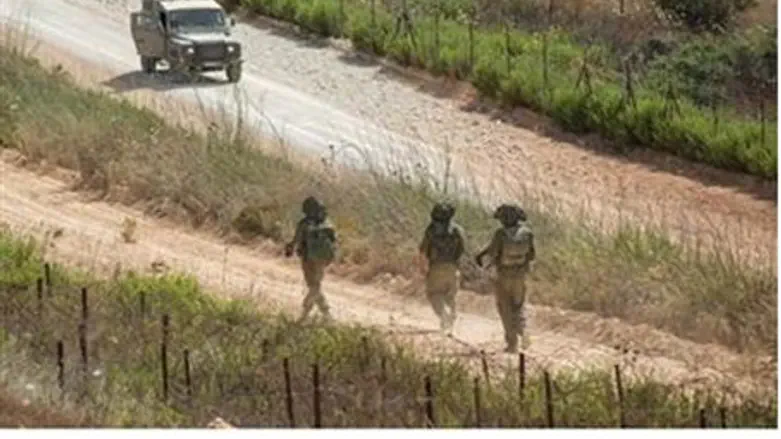 IDF troops patrol northern border
Flash 90
The IDF has begun digging trenches along the border with Syria, Walla! News reports Monday night, amid fears of real escalation between Israel and Islamists in neighboring Syria and Lebanon. 
The mechanical engineering company of the IDF's Northern Command has employed tractors and borders to dig the trenches, a source told the news site, amid specific concerns regarding terrorist infiltrations by car via border crossings. 
"The trenches are being dug along vulnerable spots on the border, after a thorough analysis [of the risks], to prevent free traffic in the area and reduce infiltration," the military source stated. Outposts near the Syrian border are not far from rebel positions from the Al-Nusra Front and the Free Syrian Army, who patrol the border regularly in cars and motorcycles. 
In addition, Western diplomatic officials said that Israel has imparted to Lebanon a stronger warning than before, emphasizing that Jerusalem will respond to any attack on Israel or Israeli institutions anywhere in the world.
This was conveyed today the Arabic Al Hayat newspaper, published in London, which claimed that Israel has given warning, through foreign ambassadors, that Hezbollah would be perceived as responsible for any harm to Israeli targets, "even at the other end of the world."
Northern residents and the IDF have been on high alert throughout the week, after an IAF airstrike in the Syrian Golan Heights killed a senior Hezbollah commander and an Iranian Revolutionary Guards general last Sunday, along with several other Hezbollah and Iranian fighters.
Hezbollah responded by vowing an attack on Israel, but made clear it does not want another full-scale war.
But the IDF has nonetheless remained on high alert, and covertly moved Iron Dome batteries close to its northern borders late Monday night. 
Ahead of possible retaliatory strikes, the IDF also closed several roads in the north Tuesday night, including the old road between the towns of Avivim and Dovev, the road between the moshav Zar'it and the Lebanese border.
Hours earlier, a convoy of civilian vehicles with Hezbollah flags fired shots in the air close to the border with Israel, raising concerns further.