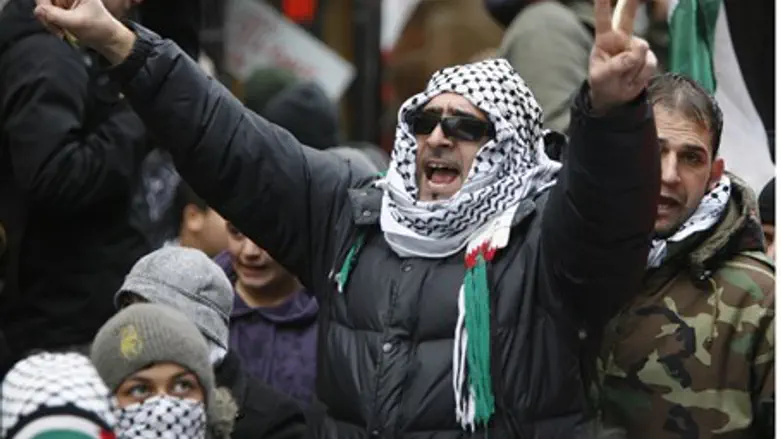 Attackers said their vicious attack was to "protest about the Palestinians" (file)
Reuters
Members of a Muslim gang who carried out a terrifying anti-Semitic attack in England last summer have pleaded guilty to racially aggravated common assault, according to the UK's Daily Mirror.
Newcastle Crown Court heard how the four anti-Semitic attackers - Balawal Sultan (18), Kesa Malik (19), Hassnain Aliamin (18), and a 16-year-old minor who cannot be named for legal reasons - had traveled to the town of Gateshead on the night of July 18 with the specific intent of attacking a member of the local Jewish community there.
Hours prior to the attack, Sultan sent a chilling text to a friend reading: "I'm going to go Jew bashing. Haha".
He then traveled along with his accomplices to Gateshead, home to the largest Orthodox Jewish community in northeast England and the largest yeshiva (Torah academy) in Europe, in search of a victim.
Sometime after midnight they found their target - a 41-year-old Jewish man returning home from a local yeshiva.
Prosecutor Bridie Smurthwaite related how the victim initially became nervous after noticing a man staring at him strangely but walked on, only for the gang to suddenly come charging at him from behind a parked van.
"The defendants had deliberately traveled to the area in Gateshead where there were members of the Jewish community with the particular intention of targeting someone from that community," he told the court, adding that "the victim was targeted because he was wearing traditional Jewish attire, a black suit and white shirt and a black hat."
He related how the "petrified" victim ran screaming "help me, help me!" as he tried to escape the sudden attack.
At that point, one of the attackers hurled a piece of wood at him, which landed at his feet and caused him to fall to the ground. The gang quickly surrounded him, with one of them pulling his leg back as if to kick him in the head as their terrified victim shouted "I have done nothing to you!"
Luckily, his cries for help caught the attention of a Jewish "family friend" living nearby who quickly intervened, causing the attackers to flee.
The court heard how the victim was found "disheveled, unsteady on his feet, confused and in shock," and left bleeding from his palms, forearm and elbow due to the fall.
Pleading guilty to the charges against him, Sultan admitted to throwing the plank of wood, and claimed he and his accomplices planned their attack in "protest about the Palestinians and about the Jewish community."
Addressing the court after the guilty pleas, their victim described the psychological scars he was left with after the unprovoked assault, saying he was now afraid to leave his home.
"I feel shaken and unsafe to walk the streets in my own community," he said. "I have never experienced fear and terror like it and I have no doubt I was attacked for being Jewish."
"I was targeted because of my religion and I'm now scared to walk past members of the Asian community with whom otherwise I have no problem.
"When I come across a person from the Middle East I feel scared and petrified."
He claimed his experience had also left the entire Jewish community shaken, and blamed the attack on the media's coverage of the summer conflict between Israel and terrorists in Gaza.
"I'm part of a very close community and this has had a far-reaching impact, word having spread and fear having also spread. I think this was because of the coverage of the ongoing conflict in the media, even though that had nothing to do with my community."
Indeed the 50-day period of last summer's Operation Protective Edge saw an unprecedented spike in global anti-Semitism, particularly in Europe, where the number anti-Semitic incidents skyrocketed. In the UK alone, authorities recorded an alarming 400% increase in the number of anti-Semitic crimes reported.
Many European Jews blamed what they say was one-sided media coverage of the conflict as helping the fan the flames of incitement. At some anti-Israel demonstrators, marchers were even seen waving placards saying "Hitler was right."
"I'm a peaceful person from a quiet and peaceful community and I've never been in that position before," the victim added. "I have been greatly affected by it and but for the intervention of my friend the consequences could have been far worse... Now, coming home at night fills me with fear.
"The incident has left me annoyed and angry because I used to be able to walk around the area I live without any fear.
"These men have changed my life and I only hope I'm able to get over this very difficult period of my life."