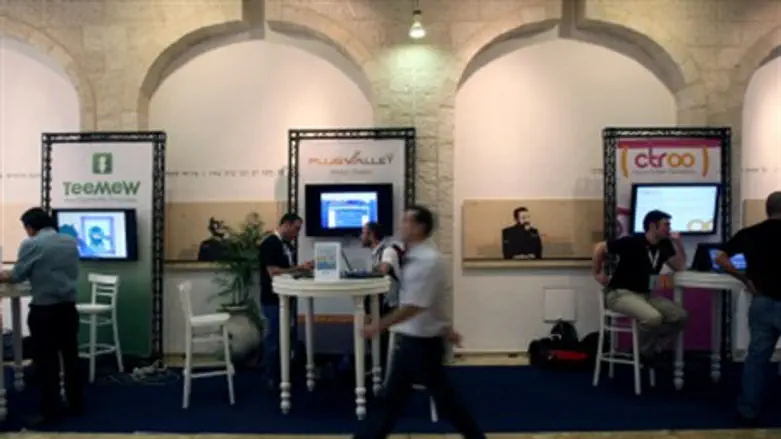 Hi tech exhibit
Israel news photo: Flash 90
Acquisitions by Amazon, Microsoft, Dropbox and others have enriched hi-tech Israeli entrepreneurs less than four weeks into 2015, reported financial website Globes on Monday.
Since the start of the year six acquisitions of Israeli start-up companies by by US companies have totaled $862 million. This compares to a total of $4.3 billion in acquisitions of Israeli companies in all of 2014.
In the biggest of the deals this month, Amazon Inc. acquired Yokne'am-based company Annapurna Labs for a reported $350-370 million. Avigdor Willenz, who founded the company in 2011, received an estimated $76.9-81.3 million.
This is Willenz's sold another start-up, Galileo, to Marvel in 2001, for $2.7 billion.
Other big deals, according to Globes, include text analysis company Equivio, which was sold to Microsoft Corp. for $50-100 million, in a major windfall for the three men who founded the company in 2004.
The Wall Street Journal reported that the company develops a text analysis software that can gather relevant texts from a vast quantity of documents, such as e-mails and social networks, via machine learning algorithms. The technology is seen as a particular break-through in the way that it can sort text based on relevancy to topics, thereby greatly enhancing organizational management.
Those using the software already include the US Department of Justice, the Federal Trade Commission, auditor company KPMG in the Netherlands, and Deloitte, another major auditor in the UK.
Software management technology company Red Bend Software was sold for $200 million to Harman International Industries Inc.; mobile cloud document company CloudOn was acquired by DropBox for $100 million; enterprise fraud detection and prevention company Intellinx was acquired by Bottomline for $67 million; and app marketing developer Appoxee was acquired by Teradata for $25 million.