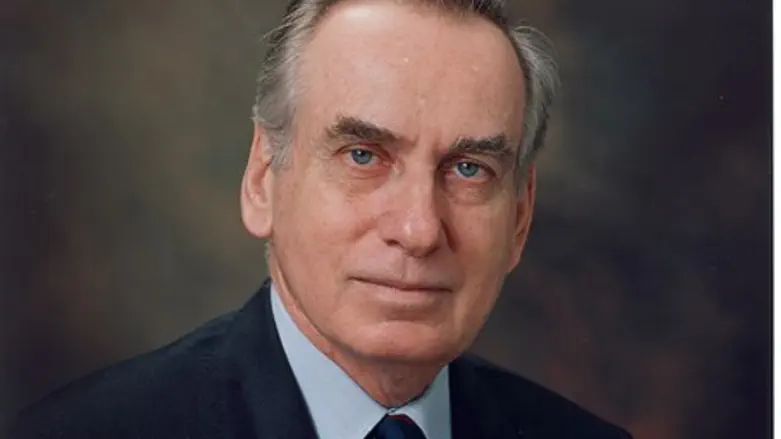 Zalman Shoval
PR photo
Zalman Shoval, formerly Israel's ambassador to the United States, told Arutz Sheva on Sunday that while the timing of Prime Minister Binyamin Netanyahu's upcoming speech before Congress is problematic, the problem can be solved using diplomacy.
The speech has been received with an icy response from the White House and has also been criticized by the left, which accuses Netanyahu of spoiling Israel's relationship with the United States "for a photo op".
"This is a problematic issue, because on the one hand we do not want to embarrass Congress which has a vital importance in terms of the relationship with the United States, but on the other hand we must remember that the White House is more important in terms of determining policy," Shoval said.
"This initiative, ignoring the nuances of who initiated [the speech], is not related to the elections in Israel but to the Iranian issue, which is important for Obama but existential for us," he continued. "Netanyahu is considered the number one authority when it comes to international diplomacy on Iran and the members of Congress want to hear his opinion about it."
The problem can be remedied, said Shoval, if Netanyahu mentions in his speech some of the positive things that the Obama administration has done with regards to Iran "and perhaps also mention Obama's State of the Union address, in which he said that if an unsatisfactory agreement is reached with Iran, the military option is still on the table."
"We have to find a diplomatic way, perhaps through secret channels, to lower the flames between us and the White House," said Shoval, who noted that the Israel-U.S. relationship is an important one and has withstood difficult tests in the past.
Shoval said that he believes it was right for Netanyahu to feel that he does not have to "take orders" from the White House regarding the speech to Congress, but should have informed the White House in advance about the invitation "so that the administration does not read about it in the paper."
At the same time, he stressed, "When the administration says it's against protocol they are talking about the protocol of Congress and not about the Israeli government - this remark applies to Congress and not to us."
Netanyahu, as a wise person who understands the rules of diplomacy, should be able to "know" how to word the speech "so that Obama is satisfied", said Shoval.
As for Obama's announcement that he will not meet with Netanyahu during his visit to Washington, Shoval noted that "the president does not meet every head of state who comes to the United States."