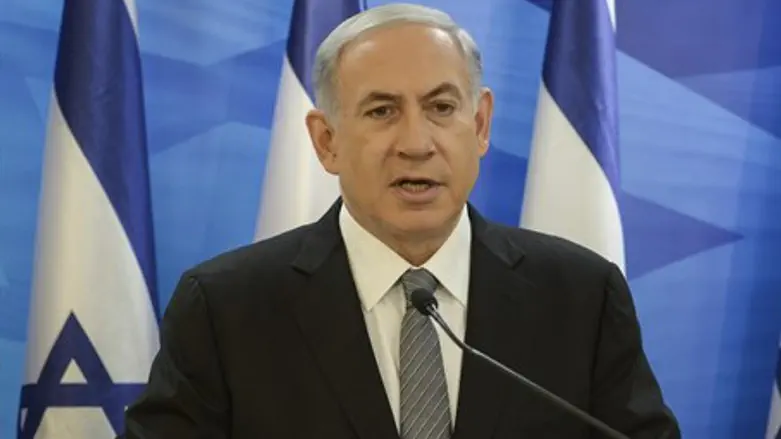 Binyamin Netanyahu
Amos Ben Gershom/GPO/Flash 90
At his weekly Cabinet meeting Sunday, Prime Minister Binyamin Netanyahu focused primarily on international issues including the Iran nuclear agreement, the struggle with Islamic State, and global anti-Semitism. 
"In the coming weeks, the major powers are liable to reach a framework agreement with Iran, an agreement that is liable to leave Iran as a nuclear threshold state, which would endanger - first and foremost - the existence of the State of Israel," Netanyahu warned as he began the meeting.
"This is the same Iran that has taken over Lebanon and Syria and is now taking over Yemen and Iraq. This is the same Iran that is preparing an active front against us both on the Golan Heights and in southern Lebanon. This same Iran cannot advance toward nuclear weapons," Netanyahu stressed. 
Netanyahu continued by stating his "obligation as Prime Minister of Israel" to prevent Iran from acquiring nuclear weapon capability "that would be aimed at the State of Israel." 
"This effort is worldwide and I will go anywhere I am invited in order to enunciate the State of Israel's position and in order to defend its future and its existence," he stated, with a not so subtle jab at Israeli and international critics of his upcoming speech at the United States Congress. 
The Prime Minister then moved the discussion to terrorism and the Japanese hostage purportedly murdered by ISIS. 
"I would like to express my condolences to the Japanese Prime Minister and people following reports of the brutal murder of a Japanese citizen by Islamic State," Netanyahu stated. 
"Last week, during Japanese Prime Minister Shinzo Abe's visit to Israel, I told him that the struggle against extremist Islamic terrorism is a joint struggle and only if we are united will we be able to emerge victorious."
"Israel stands alongside Japan and the Japanese people in this difficult hour," he emphasized. 
Netanyahu concluded his address with a reminder of International Holocaust Remembrance Day and Struggle against Anti-Semitism Day which will be marked around the world on Tuesday. 
"Last year we witnessed an increase in anti-Semitic incidents and a wave of anti-Semitism that is flooding parts of the world, especially Europe. Against these phenomena the governments of the world need to act with greater vigor." 
"History has already shown us that violence that begins against the Jews does not stop with the Jews. It is like a brushfire that spreads very rapidly to all societies and all citizens."
The Prime Minister reiterated his call for Jews to immigrate to the land of Israel and that all obstacles that impede immigration be eased. 
"Israel is the national home of every Jew and we will act to bring immigrants to the State of Israel," he stated.