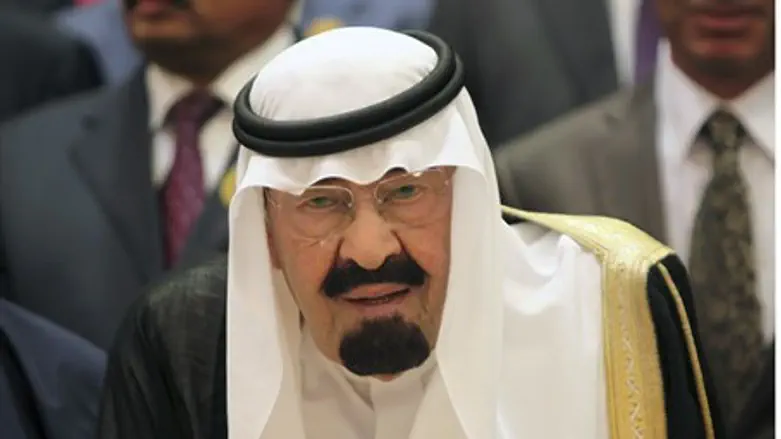 Failing health: Saudi Arabia's King Abdullah
Reuters
Israel's former president Shimon Peres Friday said the death of Saudi Arabia's King Abdullah was "a real loss for the peace of
the Middle East." 
"He was an experienced leader and a wise king. He had the courage ... to stand up and introduce a peace program for the Middle East," said Peres, referring to the 2002 Arab Peace Initiative.
"I'm not sure that we could have accepted all the items in the peace process but the spirit, the strength and the wisdom invested in it" led to a process that serves still as "a powerful base for making peace," the former Israeli president told reporters on the sidelines of the World Economic Forum in Davos.
The peace initiative put forward by Abdullah demanded that Israel create an independent state for the Palestinian Arabs, claiming that doing so would be reciprocated by blanket recognition from 22 Arab states in return. The plan has been widely criticized for its one-sided benefits in return for a promise.
Current Israeli president Reuven Rivlin also stated that he was "saddened" by the news, and praised Abdullah not for his policies toward Israel, but for keeping the Middle East relatively calm. 
"I was saddened to hear of the passing of King Abdullah," Rivlin said. "He was an example of grounded, considered and responsible leadership, with a deep religious tradition."
"As 'Guardian of the Holy Places' of Islam, King Abdullah acted as a moderator, respecting the sensitivity and sanctity of Jerusalem and sought to promote a vision of prosperity for the region," he added. "His wise policies contributed greatly to our region, and to the stability of the Middle East."
King Abdullah, who was said to be aged about 90, died late Thursday night after having been in hospital for several weeks suffering from a lung infection.